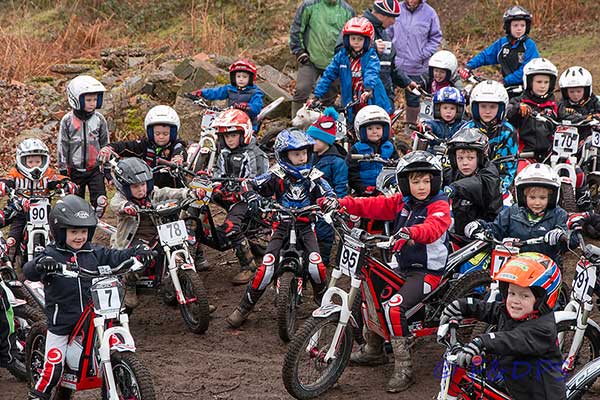 The second round of the 2 Machs Motorcycles, OSET Cheshire will take place on Sunday 19th April at Frodsham Caves.
The first round attracted a whopping 53 riders, a record for the series, who all braved the wet weather for the first round.  Thankfully, the forecast remains dry for the youngsters this weekend.
Aimed at novice and beginners, the Cheshire OSET Cup goes from strength to strength with every round. The trial starts at 11am with signing on from 9.30am. For any riders looking to attend their first event, club membership and an ACU license will be arranged on the day.
Ian Mackman from 2 Machs Motorcycles who runs all of the events, said: "We have been blown away by the level of interest.  We always look forward to welcoming new riders and helping them learn all about Trials riding and the many opportunities that exist to ride their bikes both for fun and competitively.
"With the OSET Cup North kicking off its first round on the Saturday, riders can get to enjoy a full weekend of riding – the M62 could get pretty busy with riders travelling across the Pennines to ride both events!"
The entry fee is £10, annual membership of the Frodsham club (to score championship points you will need to be a member) is £3.
The trial will have five sections, each completed four times. There will be Novice, Intermediate and Expert routes for youth classes E to B.
Postcode for sat navs is:WA6 6HB
All machines need to have a lanyard cut-off device attached to the riders wrist, 2 Machs Motorcycles will have stocks of these on the day. Riders need a helmet, gloves, ankle covering boots and long sleeves.
If you would like to attend or have any questions then please contact Ian Mackman. ian@2machsmotorcycles.com or call 01606 212750 or 07958 18132.