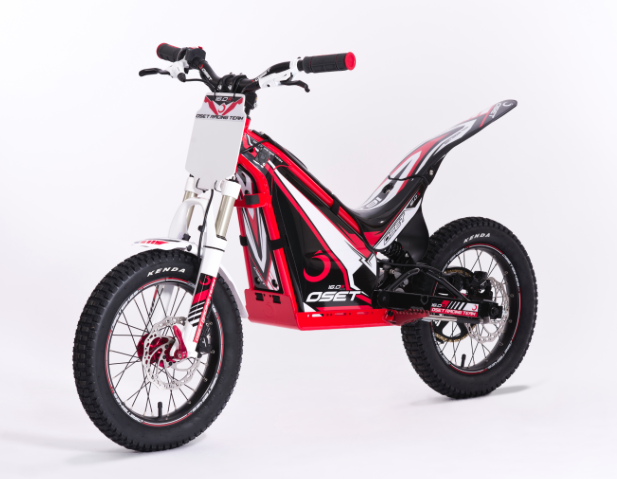 OSET Bikes, pioneers of the off road electric motorcycle industry, have upgraded every bike in its range for 2016.  All bikes feature a new sticker design – giving them a distinctive new look to match the all new riding gear.
With seven models in the range aimed at 2 -12 year olds, every bike – from 12.5 – 20.0 enjoy new maps to provide smoother acceleration and deceleration. A new battery securing system offers quicker battery changes and all models have a new motor seal to improve water ingress resistance.
Ian Smith, founder and CEO of OSET Bikes, said: "We aim to develop our bikes year on year.  Improvements deliver added value to OSET customers, whilst safeguarding affordability.  Every development decision is made with safety as a priority and ensuring kids can continue have lots of fun, whether they're riding in the back garden or at the highest level."
The new features complement the existing OSET 12.5 Eco and Racing models which are designed for the youngest riders. The 12.5 Eco, as its name suggests, hits a lower price point, while the 12.5 Racing features disc brakes, alloy pegs, hubs, handlebars and stem, sturdier chain and sprockets and great suspension. Riders can compete at OSET Cup events on a 12.5 from the age of just four.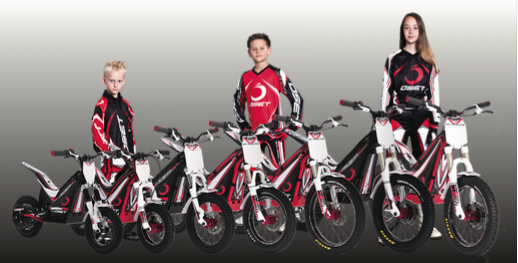 In addition to the improvements across the range, the 16.0 Eco and Racing models also enjoy a stronger lock stop plate with increased steering lock and an improved splash guard giving a better fit and coverage. The 16.0 models are sized for 5-7 year olds. The Racing version features hydraulic disc brakes, an air adjustable front fork, and rear shock adjustable for compression and rebound. The drive system on both versions is the same, with a powerful 800w motor powered by a 36v battery pack.
Stepping up, the mid-sized 20.0 Lite encapsulates the improvements of the OSET 16.0 and has upgraded aesthetically to enjoy traditional Racing colours of a red frame and black swing arm and improved mudguard. The OSET 20.0 Lite is ideally placed between the 16.0 and the 20.0 Eco and Racing. Many riders start their National careers on this bike as the ergonomics suit smaller riders, while the bigger wheels roll over obstacles more easily.
The largest bikes in the OSET family, the 20.0ECO and 20.0 Racing, include the upgrades of every other model and also a strengthened stand and improved foot peg mounts. These models have gained massive popularity in recent years. The 20.0 Eco is the machine of choice for many riders interested in stunt and play riding. Chris Northover's famous 'Storm the Embassy' video has over 2 million views, and shows the amazing feats this bike is capable of.
Meanwhile, the 20.0 Racing is the 'competition' version, with alloy swingarm and a wider 'motorcycle' rear tyre. This bike has been unbeatable at the highest level and has claimed the top three places in the ACU National Youth Trials Championship three years running.
All models benefit from OSET's sturdy construction and hold a strong resale value – reassuring new customers. OSET's unique '3 dial' power management system means that the bikes can be 'tuned' for power, speed and response in seconds. These are well thought out machines, that take fun seriously, from the world's number one electric motorcycle brand.
OSET will hold prices at the same levels as 2015. 2016 bikes and riding gear are available from your nearest OSET dealer. See the new OSET web site at www.osetbikes.com/gb for information on OSET Bikes, the OSET Dynamo's owners club, and UK wide OSET Cup events.
The new bikes can be seen at the Dirt Bike Show by visiting RP Sport on Stand A03 and on the ACU and Off Road Motorsports stands.  For more information visit your local dealer or www.osetbikes.com/gb.
Pricing …
–          12.5 Eco –             £849
–          12.5 Racing –        £999
–          16.0 Eco –             £1299
–          16.0 Racing –        £1499
–          20.0-Lite  –            £1699
–          20.0 Eco –             £1899
–          20.0 Racing –        £2099