The final round of the 2015 FIM X-Trial World Championship in Oviedo, Spain this coming Friday evening will welcome Toni Bou – Repsol Honda, who claimed his ninth straight crown in this series at the penultimate event in Austria last weekend, back to home soil. With the now twenty-eight-year-old showing no signs of losing his stranglehold on the sport, it could yet be sometime before King Toni IX is dethroned. This is a fact that his rivals both young and old are only too aware of, as they continue to try and topple this great Trial leader.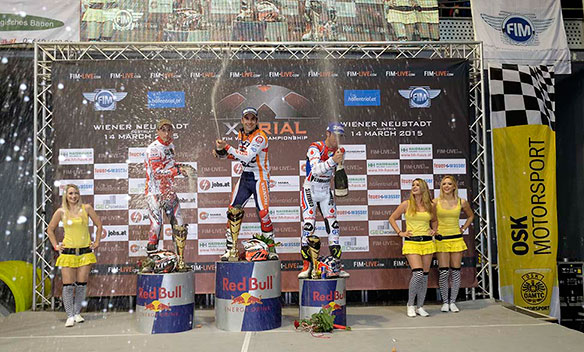 Since taking his first FIM Indoor / X-Trial World Championship back in 2007 Bou has totally dominated the discipline, and only earlier this season saw his twenty-eight event winning run brought to an end, a victorious campaign that dated back to 2010 and spanned over five years. Always modest in his own appraisal of his achievements and performances Bou gave a balanced view of his season to date ahead of this Friday's competition in Oviedo.
"So far I can be happy with my season. I started well in Sheffield and also rode well both in Marseille and Pau, so I was disappointed not to have won all of the first three rounds. Despite what happened in Pau, I recovered well and made two strong performances in both Barcelona and then just last weekend in Austria. As we have seen Adam (Raga) has been very strong this year, so this has made my work even more difficult."
"My mentality is very strong and the same in every race, so it was disappointing for me to be beaten in Pau. Many times I won when it has been very close, when I have won by just one point or had to take the victory in the tie- break race, but still I won. To have won twenty-eight events in a row I think it's incredible, especially against former champions like Adam and Albert (Cabestany). My dream was to arrive to thirty victories in Barcelona, so in Pau this dream was destroyed. Anyway I think I can still be happy with twenty-eight wins without defeat."
"So now I start again, working in the same way as before trying to win each Trial. Perhaps Adam's victory in Pau is also good for the sport, as from the outside perhaps it looks easy for me to win each time, but that is not the real story. But for me it is not good as I never like not to win."
"For sure after ten then twenty wins in a row I was always wanting more, but in the end the most important thing for me is to win the championship each year, so I am happy to be World Champion again after the event in Austria."
"What has been different this year is not having my friend and team mate Fuji (Takahisa Fujinami) with me inside the championship. Having him with me at the competitions is good, yes I always want to beat him, but also we work together in a good way too. His recovery is now nearly complete so I am ready to welcome him back soon."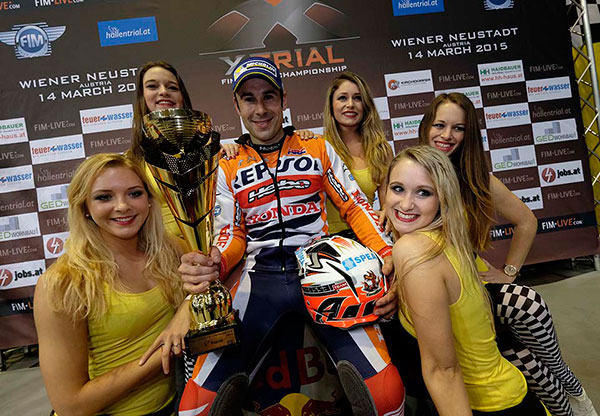 Bou finished by saying. "Now I am also training with my new team mate Jaime Busto. He already has a good level, but unfortunately he did not show it in Barcelona, as perhaps he was too nervous. In the future I am sure he will be a very good and top rider, so I need to take care. But for the moment I am only concentrating on the next Trial, and I will be doing my best as always so I can hopefully finish the indoor season in the best way possible."
The next round of the 2015 FIM X-Trial World Championship will take place in Oviedo, Spain this coming Friday. You can follow the results live on the new FIM app – available for download (Apple store & Android market) don't miss any of the action by selecting the Sport button.
Photos – FIM/Good-shoot