It is with great sadness that we have to announce the passing of Peter Gaunt. He was 82 years of age. Peter Gaunt was a renowned 'special's builder', or so it was coined in the motorcycle press. However, Peter or 'Top Gear' as he was universally known in the trials community was much more than that. He was responsible for creating his own trials machines out of motorcycles that were not even designed for the purpose and was capable of winning on his creations, a feat he achieved many times.
Gaunt developed the James trials machine for the factory as well as creating the Gaunt Jawa; Gaunt Suzuki; Gaunt Ducati and the Otley based Dalesman concern made use of his skills to further develop their Sachs engine trials model for boss, Pete Edmondson. He also converted Honda's production XL250 Motorsport trail model into the 'Allan Jefferies Honda'. Peter Gaunt also rode for Royal Enfield on their 250cc Crusader trials model along with fellow Yorkshire-man, Peter 'Fearless Fred' Fletcher.
Gaunt was a skilled mechanic and regarded as a great 'fettler' of machines, knowing how to set them up for peak performance, right through the rev range. Few will remember that Peter rode in the International Six Days Trial for the GB trophy team on a 500 AJS in 1967. Gaunt suffered a stroke in December 2016, but had fought a brave battle against cancer to which he succumbed on Wednesday, 20th February. Funeral details are not available at the time of posting this tribute. Our sincere condolences go to the Gaunt family at this difficult time.
Thank you to John Moffat for these kind words.
Pictures: Barry Robinson and Malcolm Carling – All rights reserved.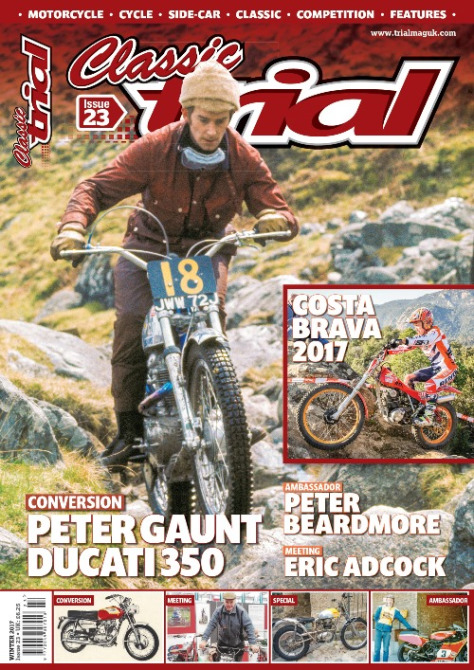 John Hulme: "This is very sad news to hear. In more recent times I had shared some good times with Peter on the phone when we generated the Gaunt Ducati trials machine article. His sense of humour and remembering the good times in trials had us both sharing some lively trials banter especially over the 'Micro' machines that achieved so much success. Our thoughts are with his family at this difficult – RIP my friend".