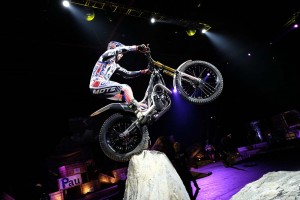 With his famous victory at the last event still fresh in his mind, despite it having been three weeks since, Adam Raga – Gas Gas is ready to repeat his win again at round four of the 2015 FIM X-Trial World Championship that will take place in Barcelona, Spain this Sunday. The soon to be thirty-three-year-old had to wait seven long years between his last two victories in a series that has been dominated by his compatriot Toni Bou – Repsol Honda in more recent seasons. Notably for Raga, prior to his win in Pau, France last month it was inside the imposing Olympic arena set high above Barcelona that he last took to the top step way back in 2008, which marked his fifth victory at this famous venue.
Brimming with confidence after his recent success Raga spoke ahead of this Sunday's event. "It was a great feeling after Pau, I had waited a long time to taste victory again and it tasted good. I made a small celebration directly after the event, because as a team we deserved to enjoy that moment, but already by Monday we were working again in the same way as before, though perhaps with some extra motivation."
"Barcelona is just another event, same as the other event, so I have been preparing in the same way, the same as I did when I won here five times before. The important thing for me is that I am training well, my confidence is good and I have a good feeling. So from that point of view everything is normal, but in other ways Barcelona is also a special race too."
"First the Trial in Barcelona always has many big steps, but we also found these in Pau, and with a good result too. The second point about Barcelona is that it has always been the biggest and most important event each year, especially for the Spanish riders. The biggest event for the media,sponsors,fans plus your friends and family. It is the biggest trophy you can win each season, and I can remember just how important it was for me each time I won it in the past and that is why I would love to win it again."
"For me I preferred it in the past when the Trial was alone and not with the enduro, but I understand for the organiser it is now different. The event may have changed, but I think you can say that it is still the most important race for the media and the fans, and the riders too. My victories in Toulouse, which was not a championship event and Pau mean that I won the last two out of three competitions against Toni (Bou) so I can be confident coming to Barcelona."
"The current commercial situation with Gas Gas has had an effect on everyone, so that includes me and my team. But we have remained focused on our work and are concentrating just on our objectives, the rest is outside of our control. I am very lucky to have a very strong and motivated group of people working closely with me. We have already achieved good results during this difficult period and will try to continue in the same way, so when conditions are better again we can be in an even stronger position."
Raga ended by saying. "In Barcelona I will do the same again. First I will fight to make sure I pass qualification and then once I am inside the final, I will fight as hard as possible for the victory, that's all."
The next round of the 2015 FIM X-Trial World Championship will take place in Barcelona this coming Sunday. You can follow the results live on the new FIM app – available for download (Apple store & Android market) don't miss any of the action by selecting the Sport button.
Photo credit – FIM / Good-Shoot