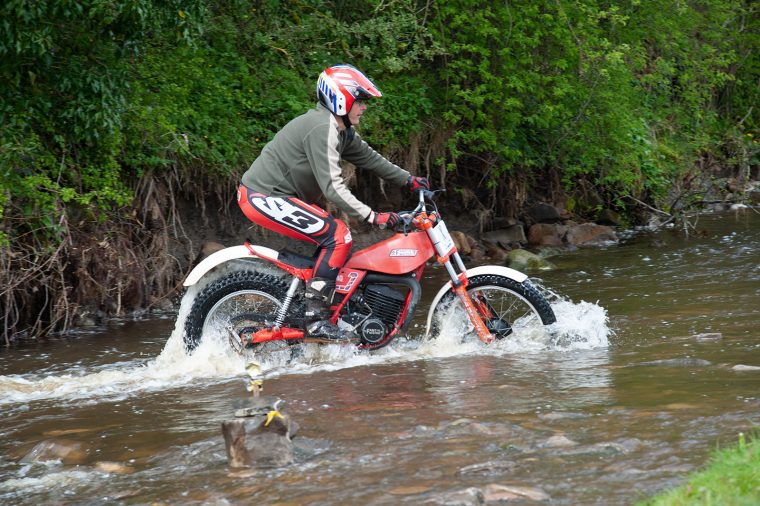 Caution – Deep water!
Whilst no rain fell on the competitors in Red Rose Classic's May trial at Ouzel Hall Bridge, no one went home dry. 
Laid out in pouring rain on Saturday morning, the level of the river used for 6 of the 10 sections had risen considerably by Sunday morning. Rocks hidden by the deep water knocked riders off line or off their bikes, resulting in a few drowned bikes and riders before the day was out.
Sections 4 and 10 proved the hardest on the expert route. Starting side by side, 4 crossed the river 3 times finishing with a blast out, while 10 caught riders at a turn in the river or the tight turn round a boulder in the bank, the tight turn claiming a number of victims into the wet stuff.
The main mark takers on the clubman route were 3 and 4 – more turns and crossing of the river and those invisible rocks, with blasts up the banks and drops into the water.
Only 2 pre unit bikes were dragged from the sheds, but the Ariels of Pete Clibburn and Carl Winstanley won the springer over 250 class on expert and clubman routes respectively.
Club Secretary Andrew Scott had a great ride to win the springer under 250 on 10 marks lost, 20 clear of former club treasurer Owen Hardisty. The clubmen class was a closer result with Steve Thomas on his Bantam loosing 3 less than Lawrence Todd on his Cub.
The twinshock classes had the biggest entry on both routes. In the experts Andrew King beat Aaron Dugdale by a mere 1 mark, 5 marks lost on section 2 proving to be Aaron's downfall.
Twinshock clubman was convincingly won by Chris Forshaw on his Fantic from similarly mounted Bill Brown, 5 marks to 20, but a shame to see 7 retirements from this class alone.
General comments at the end was it had been tricky rather than hard, so thanks to the everyone involved in laying on another great trial, see you at Walsden in June.