RT Keedwell British Trials Championship heads to Scotland on 1st and 2nd August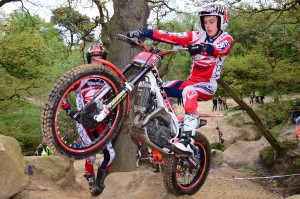 Scotland will hold round 7 of the 2015 RT Keedwell Group ACU British Trials Championship on the 1st and 2nd August 2015. The event will see the cream of the British men and youth A riders return to the highly praised Bob MacGregor Trials Academy in East Ayrshire KA3 4EH. 
The Academy is Scotland's premier Trials training ground, set up by by Iain Shankie to ensure that youths and adults can participate in the sport in a safe and legal environment and are able to receive coaching at all levels.
This year sees the trial return again under the watchful eye of Clerk of the Course, Sandy Mack, The team have spent a lot of their own personal time working on the sections for this weekend and, in particular, developing new sections – the waterfall – which was the sting in the tail has been adjusted to ensure riders will have to think about before attempting.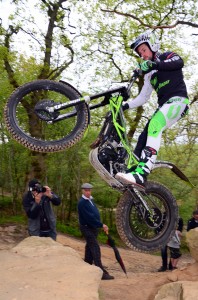 Highly praised after last year's event James Dabill thought it one of the best rounds of the series. The Academy has now been awarded a 2 Day event and looks forward to once more welcoming Britain's top riders and spectators on Saturday and Sunday morning.
The action kicks off at 9:30am and postcode for SatNav is KA3 4EH. There is a story kicking about incorrectly claiming the championship "heads to Edinburgh". If you head to Edinburgh you'll be circa 70 miles away from where you should be. For map/directions where you should be heading.
This year's Championship looks to be once again heading in Dabill's direction on the Vertigo machine. Injuries to both of his early rivals Michael Brown and Jorge Casales have given James a huge 45 point lead with just the three rounds remaining, two of them this weekend. Despite having had to sit out events since May, Michael still holds second place in the series with Sam Haslam a fine third. Sam is now only 4 points adrift of Brownee who is still recovering from the knee injury. There are a number of riders all bunched together behind Sam with Alexz Wigg, Billy Bolt, Ross Danby and Sam Connor all fighting for top three places.
One thing that has come out of this year is the emergence of some fine young riders with Billy, Jack Price and Iwan Roberts mixing it up with their more experienced rivals.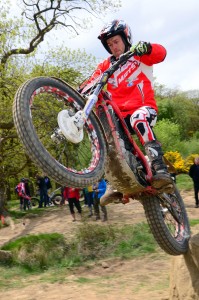 The Expert Class sees Dan Thorpe leading the series by five points from Tom Hooper then there is a gap of 13 points back to Jonny Starmer. Dan has won three of the rounds to date whilst young Tom has yet to finish on the top step of the podium. He has however been superbly consistent all year never having been lower than 4th so Thorpe will need to keep up his guard.
In the Youths Toby Martyn started the season with four straight wins but Jack Peace has come back into the reckoning with victories at Neath and Scarborough. Now they are only six points apart so that could also go down to the season's end.