The 45th edition of the 'Three Dias de Santigosa' took place at its traditional venue in the Spanish Pyrenees. 215 riders rode all three days including quite a few star names – James Dabill, Jack Price and Tom Minta from the UK, World riders Pol Tarres, Miquel Gelabert and Francesc Moret plus a resurgent Marc Freixa on the Montesa. Laia Sanz also took part and a host of 'guest' riders came on Sunday after their duties at the Marseille Indoor Trial in France. Slotted amongst the regular riders were Adam Raga, Takahisa Fujinami, Jaime Busto and Jeroni Fajardo.
Report: Ian Smith
Pictures: Ian Smith
All participants rode exactly the same course with 29 sections over about 45km each day with then a graded hill-climb and arena section in the centre of town. Amongst the sections were a handful marked 'difficile', and ranging from some that good expert riders would have a go at to some that even some World stars took 5's! Scores for the 3 days ranged from the winner on 13 to last on 1752!
There is a strong connection between Sandy Mack and the SSDT and Santigosa with overseas riders always welcome and a large contingent of 'Brits' in attendance. There were British riders in every class except the ladies and some real shining moments from many.
The overall winner on his Vertigo was James Dabill who had best performances on two of the three days and just pipped young Spanish star Miquel Gelabert (Sherco). Third overall was Pol Tarres on the TRS.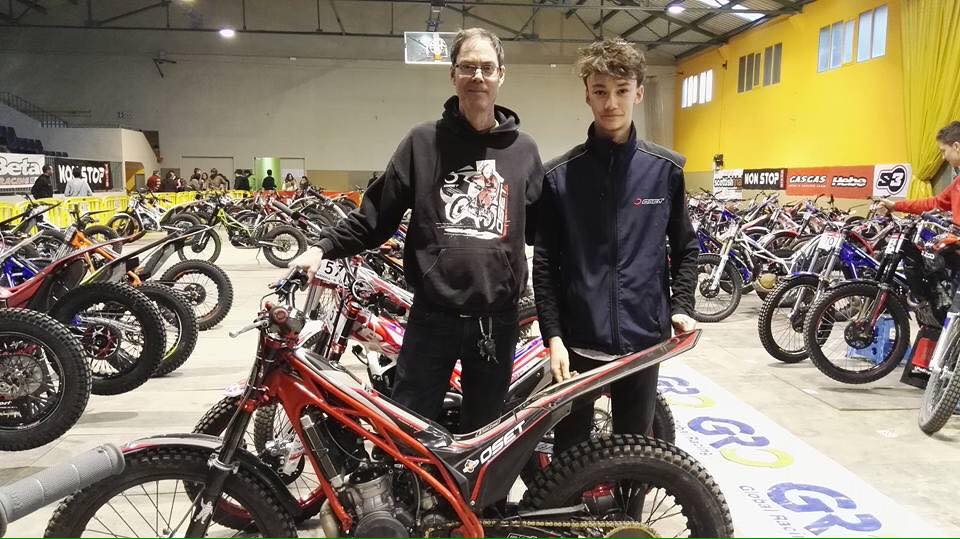 In the Youth ranks Ben Dignan (Beta) rode the 'Juvenil' class and was pushed all the way by Pau Martinez. Ben pipped him to the post by 2 points for a well deserved victory.
Next up was the 'Cadet' class. Oliver Smith was having his first outing on the OSET PR-1 project 125cc bike and had a close battle with Pol Medina on a Beta. The winning margin was also just 2 points! A special mention to Scotland's Joe Dawson, who is now up in the very deep Junior class with riders on 300's. Joe was on his Beta 125 and was easily the best 125 rider in the event! A great trial enjoyed by all!