The weekend saw the start of the 2015 World Trials Championship in JAPAN.
An expensive and logistical headache but nevertheless we had 3 riders make the trip and with some great results and some real bad news.
JSTGGUK No1 rider Michael Brown, JSTGGUK rider Dan Peace and RoadandTrialsGG rider Jack Price all competed at the two day event at the Motegi venue.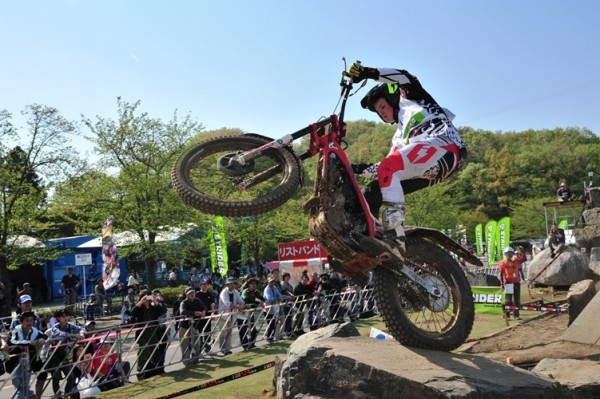 Michael had a fighting 11th place on Day 1 fresh after his BTC win two weeks ago. Michael was happy with the bike setup and was riding well in practice. At this highest level the results are always close and Michael was only 14 marks off 6th! He was happy with his riding and worked well with his 'stand in' minder and buddy Jack Challoner. Overnight he was in a confident mood for Day 2.
Day 2 was also going well with Michael in 8th place after the first lap. At the last section on the second lap, Michael got the end of the section wrong seeing him nosedive the last of a series of steps resulting him crashing to the concrete floor. The crash was captured by Trialsmedia and can be viewed here; http://www.trialmaguk.com/2015-fim-wtc-japan-michael-brown-crash/
This was to end Michaels day with a severe knee injury. To cut a long story short Michael has broken his right knee cap in 3/4 places after having xray and CT scan Sunday night. He then managed to get permission to fly and i collected him from Manchester Airport 19.00pm Monday night. He is due to see a Manchester based top knee surgeon this afternoon (Tuesday) where further analysis and possible surgery / treatment will be discussed. I would guess this injury sees Michael out of action for at least 2 months missing the SSDT, the next two BTC and at least the next three WTC (6 days).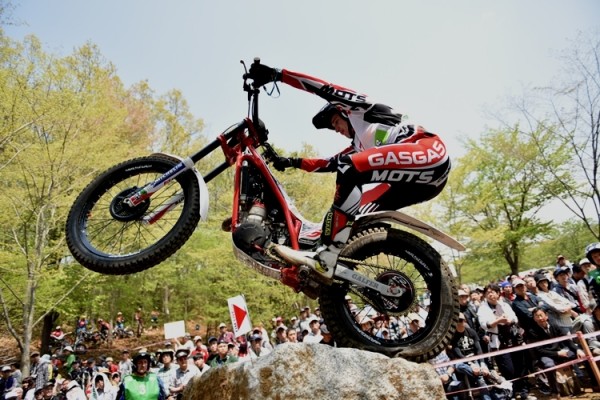 Michael, friends and family are naturally gutted for him. He injured his other knee at the SSDT two years ago which took Michael along time to get over physically and mentally. Michael is a tough guy and made in Yorkshire and i hope friends and family can keep him upbeat over the next weeks. Certainly myself and all from GGUK are gutted but remain supportive and 100% behind him. We go to the SSDT without our main man but im sure the rest of the Team will do GG proud. Wiggy, Haslam, Thorpe and MacDonald will all be trying and im confident of a good 'Team' result next week.
Thanks to all those that helped Michael with his nightmare. (trackside, hospital, hotel and airport)
JSTGGUK rider Dan Peace was competing in only his second WTC trial in the World Cup Class and had an excellent weekend.
Dan was a fantastic 5th on Day1 and 7th on Day2. Dan was not sure he would go to Japan but im now pleased Dan and his Dad did because they have returned with 20 valuable WTC points. Dan was actaully unhappy with his riding when i met him at the airport which proves this lad is a 'tryer' and will only improve.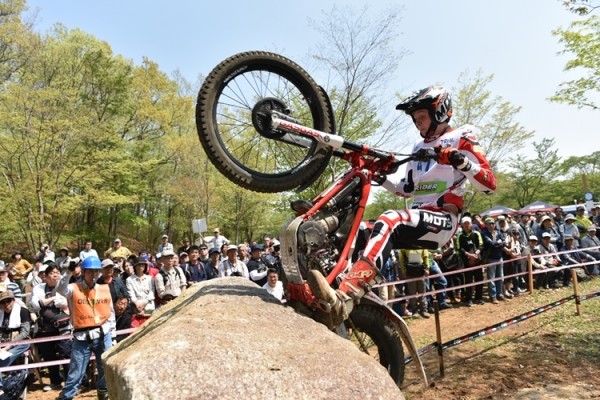 R+T GG rider Jack Price had a similar weekend to Peacy finishing 6th on Day1 and 5th on Day2 and grabbed 21 WTC points which was excellent! Jack was the same as Dan equally unhappy with his riding which also proves Jack is in the right frame of mind to be a WTC winner soon. Jack had a full year last year with mixed results. He has grafted hard over the winter and his results so far this year are impressive.
Jack now returns to 125 power for his first attempt at the SSDT where he must be one of the favourites for the newcomers award with pal Billy Bolt (also impressive in Japan).
Thanks to Trials Media for the pics.
See you in Fort Bill!
Regards
John Shirt Jnr.
Director, Team Manager
C/o GAS GAS Motos Ltd