Dabill's Delight
Words: John Hulme
Pictures: John Hulme and John Shirt 'Snr'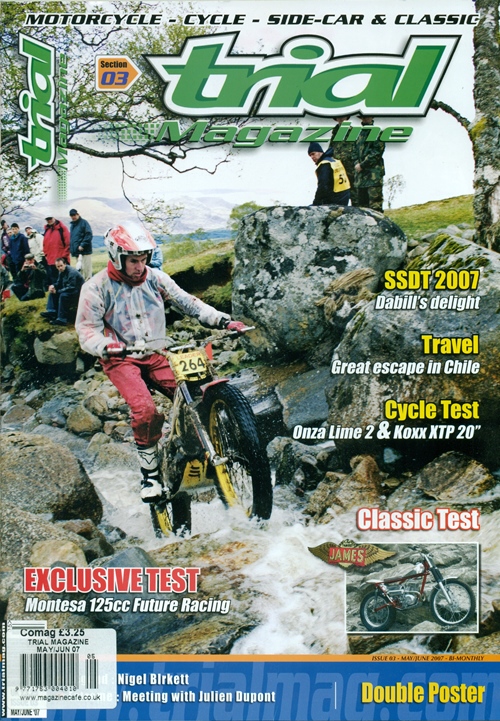 James Dabill cruised to a much sought after Scottish Six Days trial win on his Future TRW Montesa, leading from day one and never looking back. The win is the first by a four stroke since 1966 when a young Alan Lampkin took the win on his B.S.A. After establishing an early advantage on the Monday he increased this to a 14 mark winning margin come the Saturday night. The expected threat from the experienced Graham Jarvis, also four stroke mounted on the Sherco, never materialised as he lost second place to Beta mounted Michael Brown on a tie break. Despite controversy on the Monday when a group of sections had to be scrubbed due to rising water levels, the event still lived up to its name as the best trial in the World.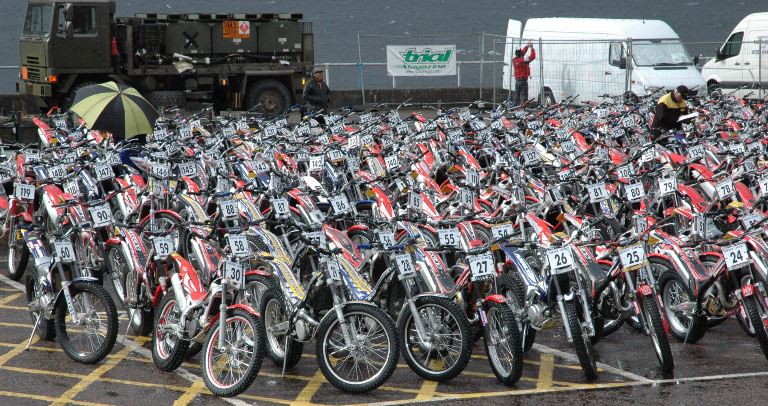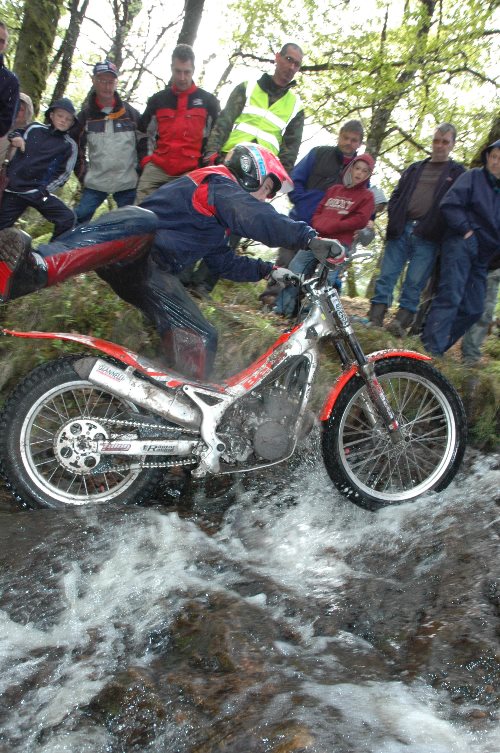 Michael Brown (Beta)
With nearly a full house of 268 riders from 10 different countries setting of on a fine Monday morning looking forward to six days of trials action in the Highlands there was expected to be a tough battle for the coveted yellow leaders number board, but 21 year old Dabill attached this to his machine on Monday evening and that's where it remained. Pre-event favourite, Graham Jarvis, took the gamble of riding the four stroke Sherco after winning last year on the two stroke and despite showing recent good form on the machine he never recovered from a high opening score on the first day which included 10 at the final group of the day, Lagnaha. The truth is that the more pressure Dabill got the better he performed, including a superb final day on the Saturday when he was an early starter. Michael Brown on the Top Trial Team Beta made up for his mistake with the time card last year to take a superb runner up place which will no doubt do his confidence the world of good as he strives to go forward with his trials career. Debuting the Beta four stroke at this year's Scottish and once again taking the best foreigner award was the super consistent Spaniard, Jordi Pascuet, who will no doubt be wondering when his first Scottish win will come. With marks being very tight he had to call on all his experience to finish just in front of ex-world champion and fellow Spaniard, Marc Colomer, on the development four stroke Scorpa who finished just behind 17 year old Alexz Wigg who was the highest placed Gas Gas rider. With a couple of high scoring days keeping him off the leader board young Wigg did himself proud in his first attempt at this gruelling event showing great resilience to the conditions. He was ably assisted by experienced Gas Gas U.K team boss John Shirt and went on to take the coveted best first timers award. Best Scottish rider once again was Gary MacDonald on the Sherco who did the home town proud just missing out on 4th place on another tie break. Among the disappointments was youngster Sam Haslam and the more experienced Dan Thorpe who were expected to mount a challenge for the win but nothing materialised from either of them or from last years third placed man Ian Austenmuhle on the Beta. Enduro ace, Welshman Tom Sagar loves his motorcycling and flew in from a podium place at the Portuguese World Championship round on Sunday night to take a much deserved top twenty place as did part time trials rider Wayne Braybrook. If you fancy doing the Scottish on the cheap why not do like Chris Myers does and ride a 20 year old bike. Chris rode the only air-cooled machine in the event and the oldest, a TY 250 mono-shock Yamaha, to a second class award in 135th place but along the way he entertained and had the odd good ride, is that not what the sport is about? Will the four stroke machines now start to rule the roost? With rumours of a return to the event for 7 times World Champion Dougie Lampkin and with new kid on the block James Dabill improving all the time next year's Scottish should prove as good as this years. Was the event too hard? The marks dropped were higher than last year but so was the winning score and with more young riders coming through and entering the event may it continue to provide a really enjoyable trials week, I certainly enjoyed myself, roll on next May.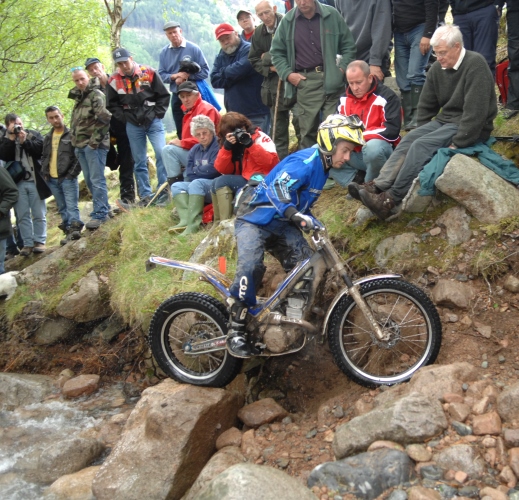 Graham Jarvis (Sherco)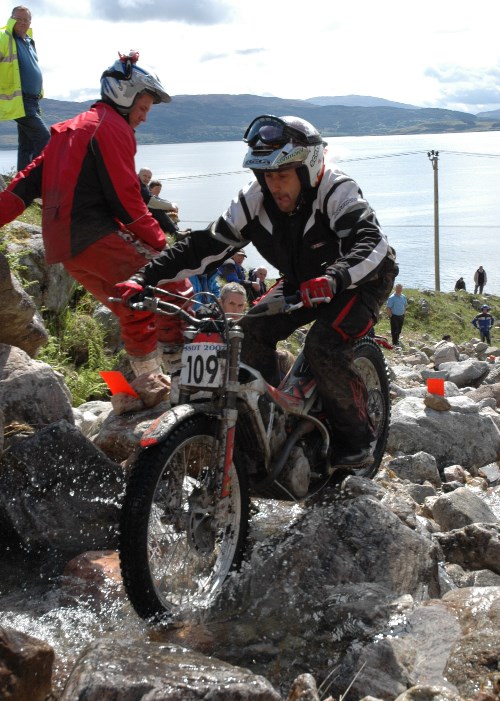 Jordi Pacuet (Beta-ESP)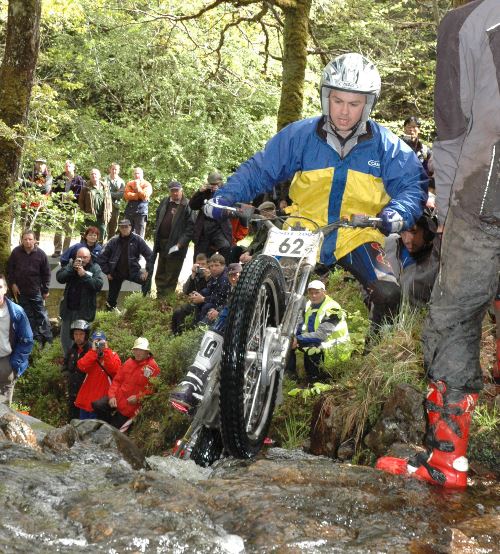 Gary Macdonald (Sherco)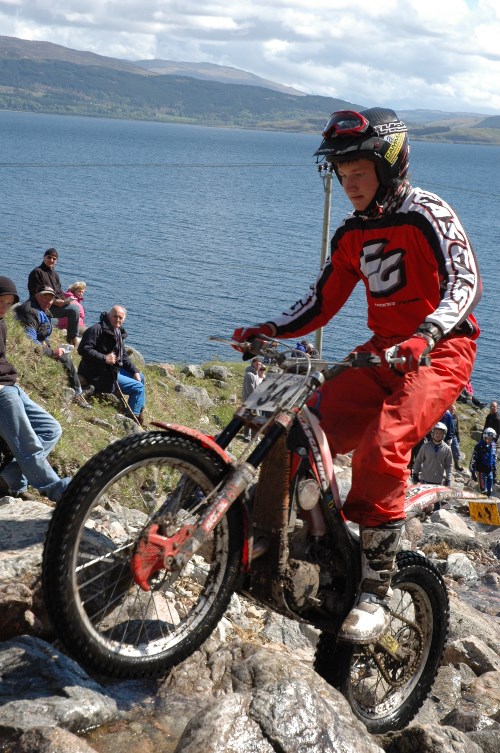 Alexz Wigg (JST Gas Gas)
Marc Colomer (Scorpa-ESP)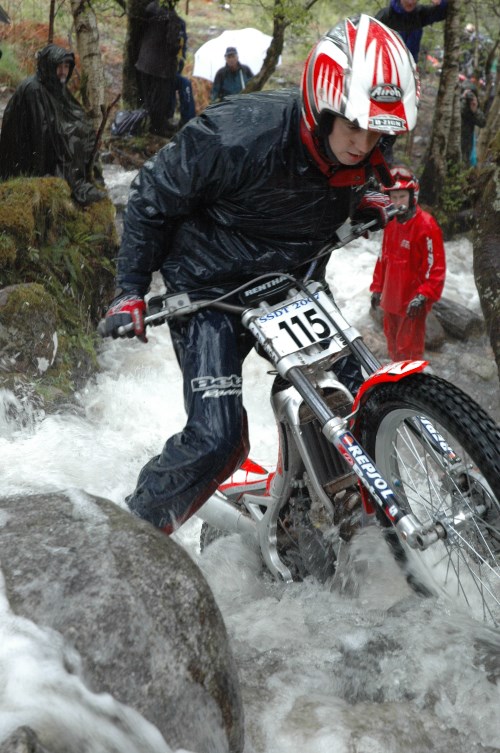 Ben Hemingway (Beta-UK.com)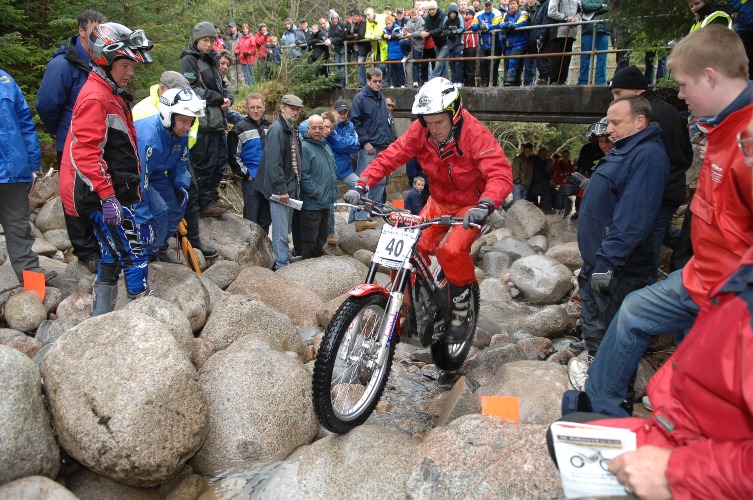 Dan Thorpe (JST Gas Gas)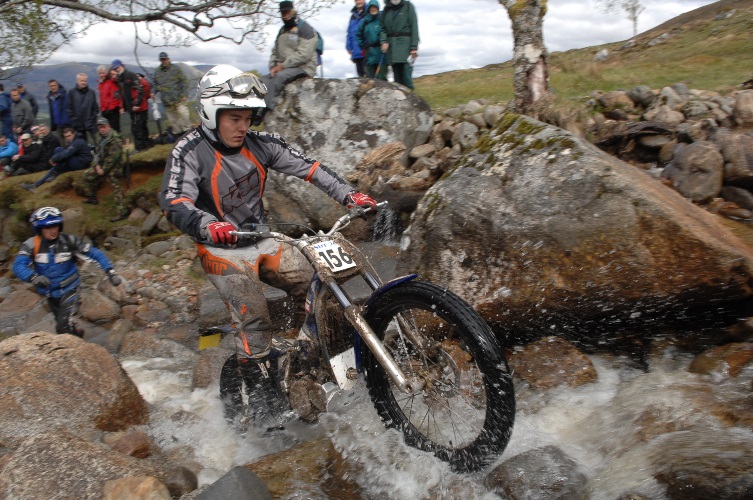 Tom Sagar (BMS Scorpa)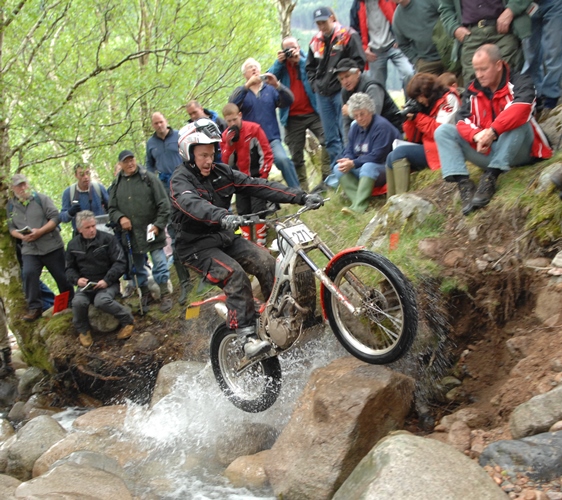 Tommi Ahvala (Montesa-FIN)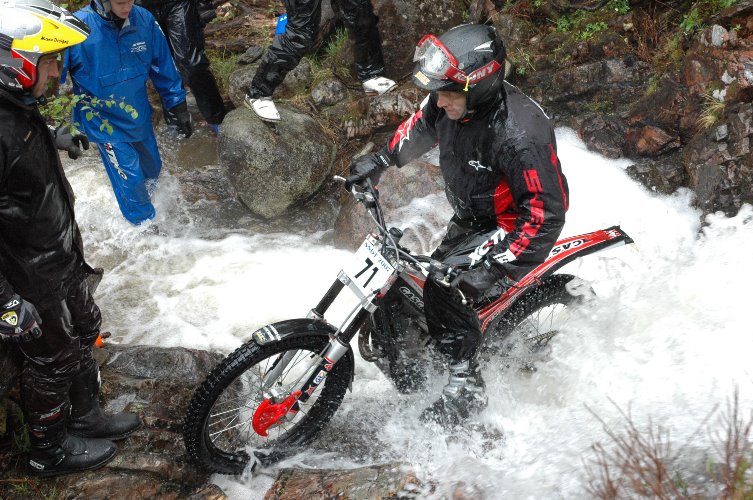 Andrew Cripps (Gas Gas)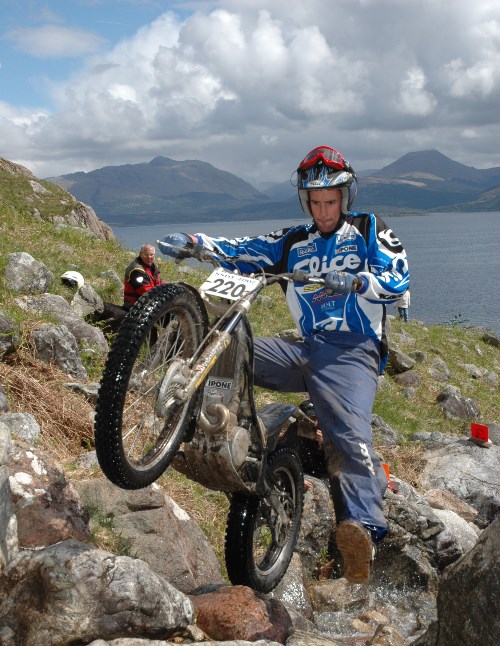 Gary Jenkins (Snerco)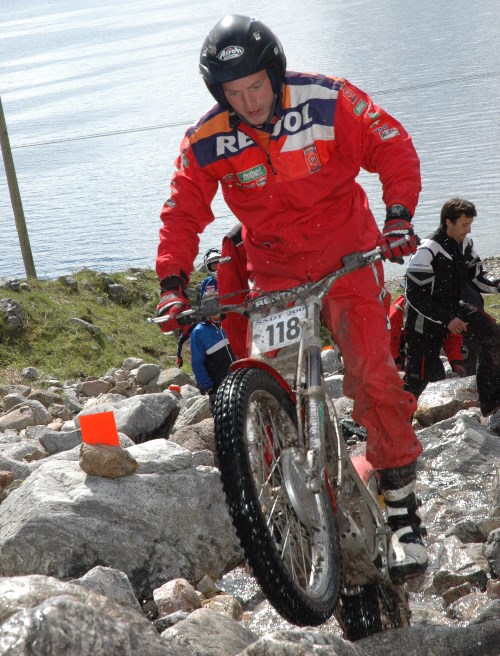 Harry Lampkin (Montesa)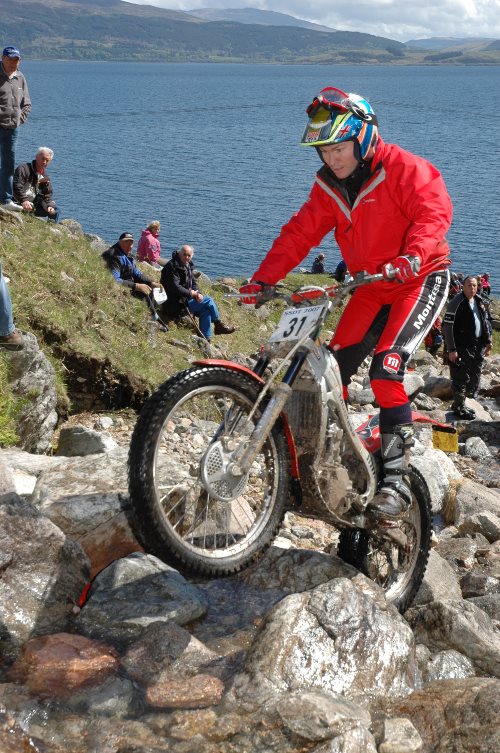 Grant Morris (Montesa-AUS)
1/James Dabill [Montesa] 21, 2/Michael Brown [Beta] 35, 3/ Graham Jarvis [Sherco] 35, 4/Jordi Pascuet [Beta] 43, 5/Gary MacDonald [Sherco] 43, 6/Alexz Wigg [Gas Gas] 44, 7/Marc Colomer [Scorpa] 48, 8/Shaun Morris [Gas Gas] 48, 9/Ben Hemingway [Beta] 50, 10/Dan Thorpe [Gas Gas] 61, 11/Joe Baker [Scorpa] 61, 12/ Ian Austenmuhle [Beta] 67, 13/Sam Haslam [Scorpa] 68, 14/Sam Ludgate [Beta] 73, 15/Wayne Braybrook [Gas Gas] 77, 16/James Lampkin [Beta] 79, 17/Tom Sagar [Scorpa] 86, 18/Lee Sampson [Sherco] 89, 19/Andy Huddleston [Montesa] 106, 20/Dan Hemmingway [Beta] 110, 21/Tommy Ahvala [Montesa] 111, 22/Phil Alderson [Sherco] 119, 23/Chris Pearson [Sherco] 120, 24/Liam Walker [Gas Gas] 122, 25/John Shirt [Gas Gas] 126.
Copyright: All rights reserved – The images are not to be re-used on Websites including Social Media and are not for Print without written permission from Trial Magazine.