The first round of the OSET Cup North proved a great day for the young riders.  It was smiles all round for the first timers right through to 'seasoned pros' on the elite route.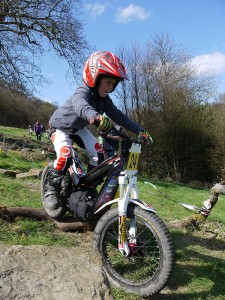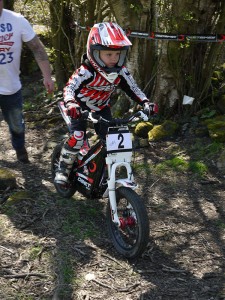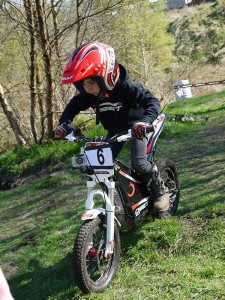 Held at Deepcliffe Farm, the venue is an ideal location for young trials riders, as it offers a wide variety of sections from riding through the stream, drop ins, hill climbs, rocks and tree roots.  The dry conditions boosted everyone's confidence.
Split into two conducted groups, the easy course joined with the hard route riders while the intermediates teamed up with the elite boys.
Kevin Feeney, from Colin Appleyard who supported the event and provided Ride of the Day awards and certificates, said: "The beautiful weather, supportive atmosphere and sections that were fun to ride while challenging in places to boost confidence and ability, meant it was one of those trialling days that was just about perfect.  It's important to us to support grass roots events as many of these riders may go on to become lifetime customers and lifelong fans of trials riding."
British national riders, George Hemingway and Myles Hutchinson rode the elite route, which saw George come out on top.  Simon Armstrong from OSET Bikes added: "Marking out for these boys is tough.  They are phenomenally good for their age, so getting sections that challenge but are not too dangerous is a fine line.  You'll look at something and think: 'is that too much?' and they'll clean it every lap – brilliant stuff, great to watch and inspirational for the riders coming behind them."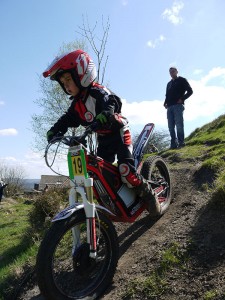 Four kids rode the hard route.  Jasper Fox whose riding has improved consistently over the season took the win from Jenson Jones.   Quiet and utterly able, Jensen is certainly a rider to watch!  Alex Horne came in third, and the red route welcomed back Maxton Young who had taken a year out from trials.
With ten riders on the intermediate route,  Beau Cheesewright and Tyler Atkinson, enjoyed stepping up a level to take first and second on the podium in the E-Class.  Joel Hazlett, Jack Spencer and Amie Walters were separated by just one dab each to take first, second and third respectively for the D's.
It was a successful day for the Hazlett family as daughter Erin took second on the white beginners course.  Charlie Spencer picked up third while Toby Tyson enjoyed the top position for the very youngest riders.  Oliver Arkwright, had a great ride and thoroughly enjoyed picking up his top of the shop trophy for the D-Class on the white course.
Simon finished: "The next round will be on Saturday May 09th at Westwood, South Yorkshire, S75 3DP."