Amelia, Andy and Jill Turner
Andy Turner 50!
South Yorkshire trials rider Andy Turner collected a brand new 2015 300cc Beta from the Road & Trial motorcycle dealership at Barugh Green on Saturday afternoon. Nothing remarkable up to now. But read on …
The Hoyland property developer was celebrating his fiftieth birthday and thinking about the Stocksbridge Motor Club's legendary Old Bazzola Trial at Greenmoor on Sunday. Andy's duties were to recruit observers for the trial and hope that no snow descended on Saturday night.  Andy's wife Jill, and daughter Amelia, had decided to mark the half century birthday for the Hillsborough Motor Club member.
In a veil of secrecy that involved friend and trials rider Gavin Black and his wife Katie, plus three week old Freddie, as well Kerry a new Beta (£5100 in total), was ordered, put on display with a Happy Birthday placard on it. Jill and Amelia managed to keep everything under wraps even driving Andy blindfolded to the R & T emporium.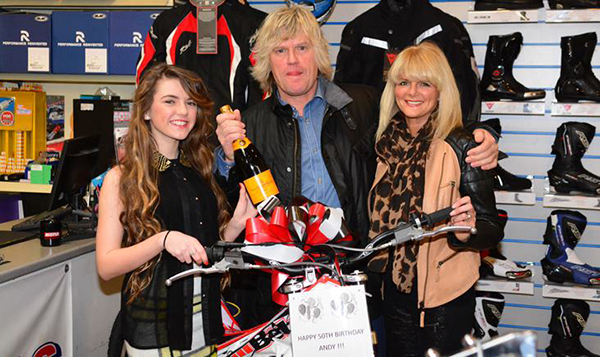 Until Andy climbed the showroom stairs he was unaware and was almost speechless when he spotted the gleaming red and cream machine on Saturday morning. A large birthday card adorned the front forks of the Beta; Mrs Turner also produced the obligatory bottle of champagne. For once the  Hillsborough Motor Club's honorary Press Officer was speechless and  even more shocked when the TMX News agent stepped out of a curtain clad changing cubical –with Nikon. And the footnote? Mrs Turner had even arranged the trade-in of the current Beta owned by her husband.