21st edition on October 10th &11th 2020 in Malaucene, Provence – France
The Ventoux Trial Classic also known as VTC is one of the most well-known French Classic Trials. The 21st Edition of the Ventoux Trial Classic will take place on October 10th and 11th 2020 in Malaucene at the foot of the Mont Ventoux in the heart of Provence.
The technical and administrative controls will be carried out on Friday October 9th 2020 from 9am until 8pm. The VTC is opened to twin-shocks and air-cooled motorcycles. Motorcycles must be registered and insured.
Over 400 riders including 120 foreign ones including British, Italian and Spanish participate each year. The VTC is a team event consisting of three riders in each team. Each team chooses its level of difficulty. A coefficient is used based on the age of the motorcycle to weight the performances of the machines.
Yrjo Vesterinen will be the guest of honour for the 21st Edition of the Ventoux Trial Classic. Others trial twinshocks "legends" will join on this special week end including Charles Coutard, Gilles Burgat, Fred Michaud, Pascal Couturier, James Subira, Steve Saunders and others to be announced
The Ventoux Trial Classic is a 50 km route to be completed once a day. It includes 18 zones in the Ventoux massif. The course passes through the mountains and valleys and through the VTC village. The village brings together trial specialists with their spare parts, accessories and motorcycles for sale as well as local products such as wine, olive oil and local specialities. There is also "La Buvette des Palivettes" a local refreshment bar.
On-line registration will open at the end of June 2020 on the website www.ventoux-trial-classic.com. There is also a dedicated Facebook page www.facebook.com/ventouxtrialclassic.
We hope that many of you will come and participate to this event show us your classic machines.
Have you seen Classic Trial Magazine? Have a quick view by clicking on this link here: http://bit.ly/Classic-Trial-Magazine-32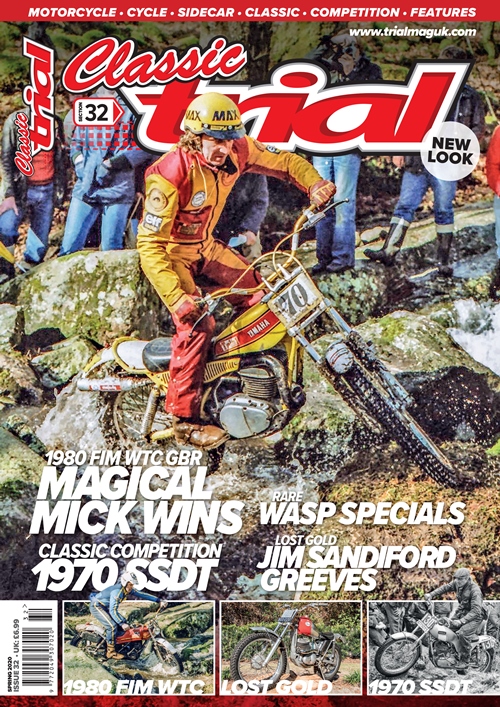 Subscribe: www.trialmaguk.com