A week after his extensive facial surgery could Eddie Karlsson, Montesa, invite the press to Kungsbacka, Sweden. It was fully accepted by both Swedish TV and radio, and most newspapers in western Sweden, who all wanted to know how he is feeling and how his racing future looks like.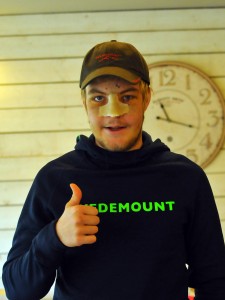 After his fall at training two weeks ago, he received extensive contusions of the face and a nearly nine-hour operation, he received ten titanium plates screwed to fix all the damage to the skull. Now, after a week, he is very tired and have lost muscle mass.
" I have lost 6 kg in less than two weeks, so my jeans are too big" says Eddie. "I get tired quickly and have difficulty with balance and feel like I have been seasick all the time.
I had also a concussion, so that the head must be kept still, but soon I hope I can start with some light training, so I can have return my lost leg muscles"
At least two weeks he will rest after the surgery so that the head and the balance will return.
"Everyone asked my how this damage affects my riding in the future and if I am not worried, but every time I hurt myself, I immediately ride the same place again, so I will be riding on the same stones as soon as I can ride the bike again" says Eddie
"I have received many greetings from my team Honda-Montesa and fans from all over the world, but I have not been able to answer all yet. So thanks for all the support and encouragement greetings."
Eddie will miss the World Round in Japan next weekend, but expect to be able to run the Swedish Championship in his hometown, Kungsbacka, May 16 and ride in the second round World Championship in the Czech Republic on May 30 and then be at the top in Swedish World Championship in Borås June 6 to 7.