TRIAL MAGAZINE ISSUE 53 – The Wait is Over!
Yes Issue 53 will be with you shorty in full colour gloss with all your Trials News, Action, Events, Product Tests, Interviews and so much more for you full throttle addicted trials junkies! As you would expect from such a high quality independent publication in its 116 pages brought to you in full colour gloss it carries superb images and interesting in depth articles from a team dedicated and passionate about the sport of trials.
For the subscribers check that letterbox later this week. For all you guys on the go it is also available across platforms at Press Reader from the 2nd October – www.PressReader.com  why not down load the PressReader app?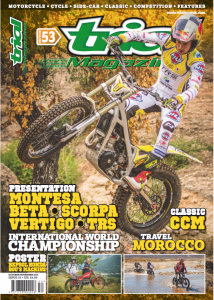 Inside and full of action you will Find in Issue 53
Presentation: 2016 Models from Beta, Gas Gas, Montesa, TRS, Scorpa, Sherco and Vertigo
International: The conclusion of the 2015 FIM World Trials Championship, Ladies and Trials Des Nations
Product Focus: Forma Boots
Training: We went to the Adam Raga School
Technique: Rivers – Keep your feet dry!
Classic Machine: The CCM Four-Stroke – Proud to be British and made in Bolton
Sport: The British Championship
Youth: British Championship
Cycle: Competition
Travel: On Tour in Morocco
All the Regular Features Including
Talk Trials with Toni Bou and Emma Bristow the 2015 World Champions – News– Enjoy the Fun in Paddock – Shopping – Poster: The Repsol Honda Squad and Mr Bou's Winning Machine – Back issues – Superstore – Machine Guide – Dealer Locator – Remember it's only Trials!!
CJ Publishing – Proud to be Independent
Make sure you don't miss out and get yourself a subscription by contacting Warners: Mail: subscriptions@warnersgroup.co.uk  or telephone: 01778 392479 or go direct and on-line at: www.trialmaguk.com
For UK/EEU/International Subscriptions and Costs please view: www.trialmaguk.com