TRIAL MAGAZINE ISSUE 49 – 116 Pages!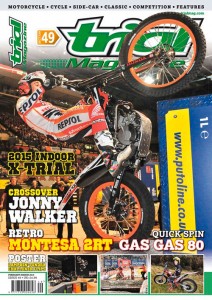 Yes Issue 49 will be with you shorty in full colour gloss with all your Trials News, Action, Events, Product Tests and so much more for you full throttle addicted trials junkies! As you would expect from such a high quality publication in its 116 pages brought to you in full colour gloss it carries superb images and interesting in depth articles from a team dedicated and passionate about the sport of trials.
For the subscribers check that letterbox from Thursday onwards and in the news agents at the week-end. It will also be available across all platforms at Press Reader – www.PressReader.com  for the digital version or why not down load the PressReader app?
Inside and full of action you will find:
Birthday: Steve Colley celebrates over 20 years with Gas Gas.
Competition: It's X-Trial time!
Cycle: Charlie Rolls and Adam Morewood put on the show at Sheffield.
Debut: Green is go for Vertigo!
Quick Spin: Gas Gas TXT 80cc – Did we like it?
Birthday: Steve Saunders turns 50 – The old dog!
Product Focus: Hebo goes under the spotlight.
Poster: Its back flip with Jack Challoner – Dougie Lampkin braves the cold Brrr…
Crossover: Super cool Jonny Walker – Dude!
Training: Are you Inch Perfect?
Retro: The Cota 2RT
International: Bucca Trials – What?
Technique: Billy Bolt hangs on!
Flashback: Aprilia 1989 – Water-cooled at last.
Enjoy the Regular Features: Talk Trials Toni Bou – News – Talk Trials James Dabill – Paddock – Shopping – Product Spotlight – What's New – Talk Trials Emma Bristow – Poster – Superstore – Back issues – Price Guide – Subscription form – Dealer Locator
Plus all the regular features – Remember it's only Trials!!
Make sure you don't miss out and get yourself a subscription by contacting Warners: Mail:subscriptions@warnersgroup.co.uk  or telephone: 01778 392479
For International Subscriptions and Costs please view: www.shoptrialmag.com