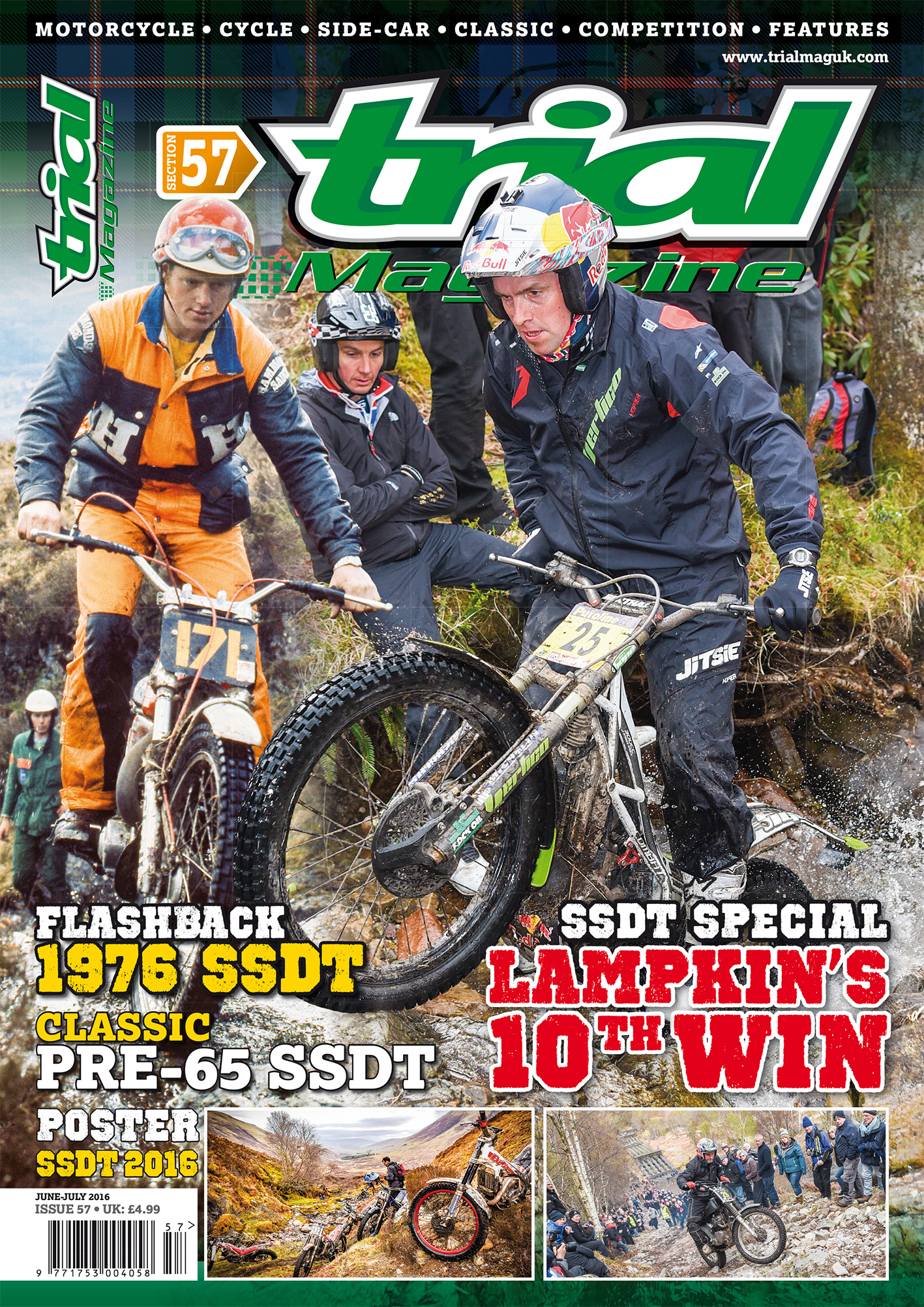 Yes Issue 57 has been printed and will be with you shorty in full colour gloss with all your Trials Action, Events, Product Tests, Interviews and so much more for you full throttle addicted trials junkies! As you would expect from such a high quality independent publication in its 116 pages it carries superb images and interesting in depth articles from a team dedicated and passionate about the sport of trials. This issue is our 'SSDT' one!
For the subscribers check that letterbox from next Thursday onwards and in the news agents two days later. For all you guys on the go it is also available across all platforms at Press Reader from the 6th June – www.PressReader.com  why not download the PressReader app?
Inside and full of action you will find:
Traditional: A very proud Dougie Lampkin takes his 10th win
Classic Competition: Dan Clarke takes the Pre-65 SSDT win.
International: The FIM World Trial Championship.
Company: S3 returns from the ashes with a new factory.
Diary: We follow Amos Bilbao at the SSDT on the Montesa Cota 4Ride.
Celebration: Takahisa Fujinami starts his 300th WTC GP.
Indoor: Its 10 wins for Toni Bou at the FIM X-Trial World Championship.
Flashback: Martin Lampkins 1976 SSDT win.
SSDT Vehicles: Mercedes and Kia.
Exotica: What's new in Japan?
Classic Test: 1977 SSDT Honda TL 250.
Sport: UK Trials.
Remember it's only Trials!!
CJ Publishing – Proud to be Independent
Make sure you don't miss out and get yourself a subscription by contacting Warners: Mail: subscriptions@warnersgroup.co.uk  or telephone: 01778 392479
Why not go online and subscribe: www.trialmaguk.com