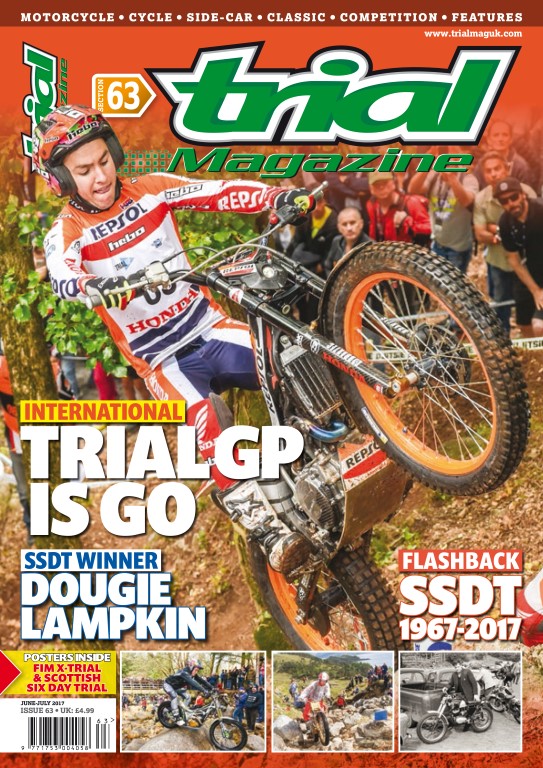 Yes Issue 63 is available in full colour gloss with all your Trials News, Action, Events, Product Tests, Interviews and so much more for you full throttle addicted trials junkies! As you would expect from such a high quality independent publication in its 116 pages brought to you in full colour gloss it carries superb images and interesting in depth articles from a team dedicated and passionate about the sport of trials.
For the subscribers check that letterbox from TODAY onwards and in the news agents later. For all you guys on the go it is also available across all platforms at Press Reader from the 1st April – www.PressReader.com why not down load the PressReader app?
Inside and full of action you will find:
International: TrialGP is go as we take our first look at the 2017 FIM TWC.
Traditional: Our in depth coverage of the 2017 SSDT includes 'The' picture of Dougie Lampkin's famous and exclusive single 'Dab'.
Classic Competition: Gary MacDonald wins the Pre-65 SSDT.
Cycle: On Tour with European action.
Sport: It's time to catch up with the opening BTC action: Solo, Sidecar and S3.
Flashback: The Scottish Six Days Trial: 1967/1977/1987/1997/2007.
Retro: The 1987 World Trials Championship opening rounds.
Dealer Visit: We called at 'Inta Bikes'.
My World: Dutch riders at the SSDT.
Special: Who remembers the Fournales from 1982?
Plus all the regular features – Remember it's only Trials!!
CJ Publishing – Proud to be Independent
Make sure you don't miss out and get yourself a subscription by contacting Warners: Mail: subscriptions@warnersgroup.co.uk or telephone: 01778 392479
For International Subscriptions and Costs please view: www.trialmaguk.com