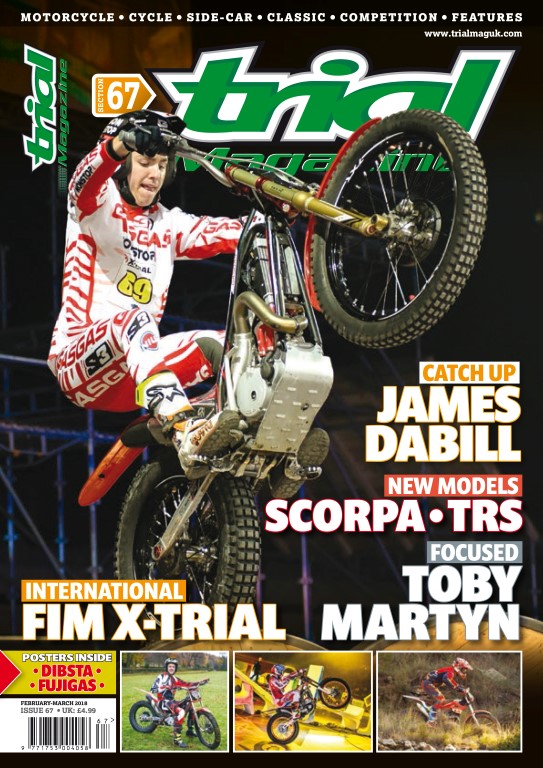 Yes Issue 67 will be available in full colour gloss with all your Trials News, Action, Events, Product Tests, Interviews and so much more for you full throttle addicted trials junkies later this week. As you would expect from such a high quality independent publication in its 116 pages brought to you in full colour gloss it carries superb images and interesting in depth articles from a team dedicated and passionate about the sport of trials.
For the subscribers check that letterbox from Thursday onwards and in the news agents later. For all you guys on the go it is also available across all platforms at Press Reader from the 27th January – www.PressReader.com 
New Models: Close up with the 2018 Scorpa and TRS models. We also look at the new Beta and Gas Gas machines.
Catch Up: We catch up with James Dabill 'The Man in Demand' and look back at his world championship years.
Traditional: Sheffield Indoor as always 'Kick-starts' starts the trials season.
Focussed: Toby Martyn talks for the first time as he makes the move to Montesa and the Cota 4RT.
International: The new FIM X-Trial is so exciting that we went and enjoyed it
9 Till 5: Dan Thorpe talks trials and rides the 2018 Gas Gas TXTGP.
Meeting: An exclusive first magazine interview, Is Hugo Defrese the new 'Mighty Atom', we find out.
Classic Competition: Its 1978 and ice cool 'Vesty' is in command of the World Trials Championship on his way to a third consecutive crown.
Sport: We reflect on the 2017 Sidecar championship.
Endurocross: Enduroc gets the full 'Fujigas' attack in Spain as he competes in the event on the four-stroke Montesa 4Ride.
Preview: Your dates for 2018.
Cycle: We look at the cycle champions.
Pastmasters: Yes they were on display at the Costa Brava Classic.
Flashback: Its Dougie Lampkin time at the 1998 World Championship he starts to make his mark as a future 'Legend' of the sport.
Plus all the regular features including 'Talk Trials' with Toni Bou, News, Paddock Pictures and so much more – Remember it's only Trials!!
CJ Publishing – Proud to be Independent
Make sure you don't miss out and get yourself a subscription by contacting Warner's: Mail: subscriptions@warnersgroup.co.uk or telephone: 01778 392479
Or go on-line for all Subscriptions and Costs please view: www.trialmaguk.com
Picture Credits: All rights reserved – Trial Magazine