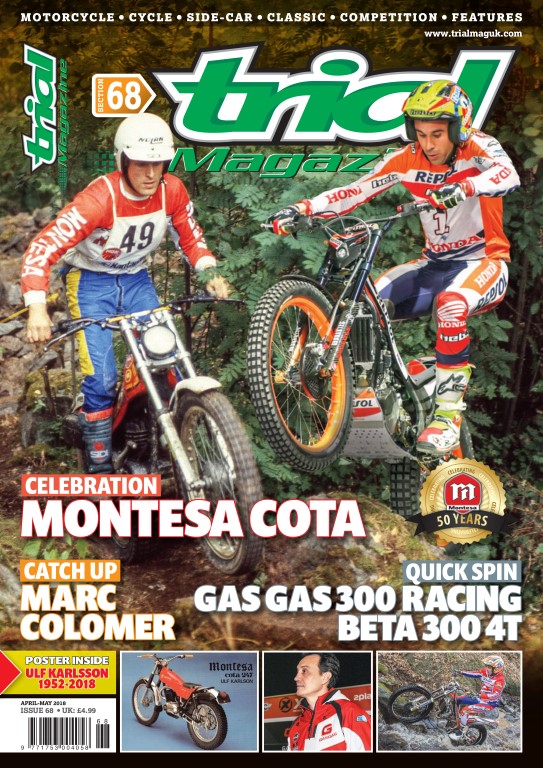 Yes Issue 68 is available in full colour gloss with all your Trials News, Action, Events, Product Tests, Interviews and so much more for you full throttle addicted trials junkies. As you would expect from such a high quality independent publication in its 116 pages brought to you in full colour gloss it carries superb images and interesting in depth articles from a team dedicated and passionate about the sport of trials.
For the subscribers check that letterbox from today onwards and in the news agents later. For all you guys on the go you can find it at most major UK airports and it is also available across all platforms to purchase at #issuu Web: http://bit.ly/Trial-Magazine-68
International: It's a back breaking Toni Bou who secures another FIM X-Trial World Championship.
Remembering: The 'Legend' Ulf Karlson, the first Montesa World Champion.
Quick Spin: Ben Hemingway puts his leg over the 300 Beta four-stroke and Richard Timperley the 300 Gas Gas two-stroke.
New Models: The #electric OSET MX 10 – Are you ready?
What's New @TRS: The success story continues.
Catch Up: Gas Gas Team Manager Marc Colomer opens up to Trial Magazine.
Celebration: The Montesa celebrations of 50 years of the Cota production continues looking at the years 1993 – 2018.
Success: The Scorpa 'Triple' in Scotland.
Sport: The 2018 British Championship gets under way.
World Round Winners 1975 – 2017: The full 'Stats' on the world championship.
Cycle: It's time to road trip to Spain.
What's The Story: Alan Aspel spends a day with Sammy Miller in 1968 and the new Bultaco.
Plus all the regular features including 'Talk Trials' with Toni Bou, News, Paddock Pictures and so much more – Remember it's only Trials!!
CJ Publishing – Proud to be Independent
Make sure you don't miss out and get yourself a subscription by contacting Warner's: Mail: subscriptions@warnersgroup.co.uk or telephone: 01778 392479
Or go on-line for all Subscriptions and Costs please view: www.trialmaguk.com
Picture Credits: All rights reserved – Trial Magazine – Barry Robinson