TRIAL MAGAZINE ISSUE 80 – Its Trials #100% – Have a quick look, click on the link here: http://bit.ly/Trial-Magazine-80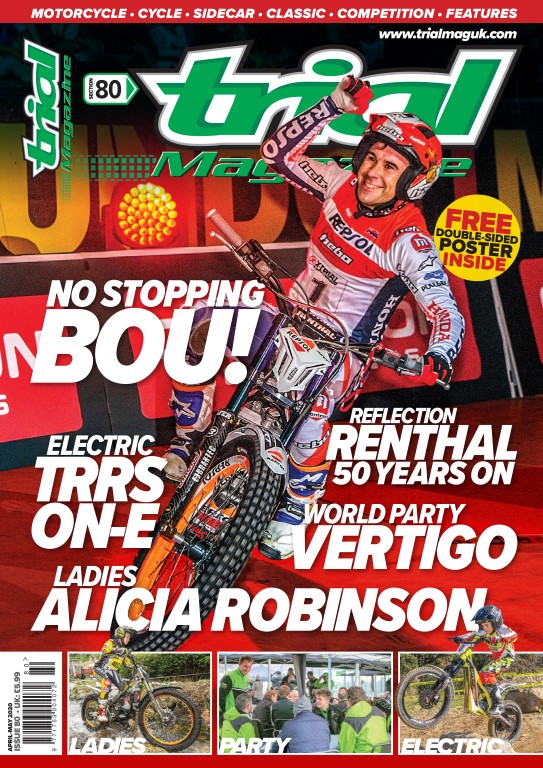 Yes Issue 80 is available shortly in full colour gloss with all your Trials News, Action, Events, Product Tests, Interviews and so much more for you full throttle addicted trials people. As you would expect from such a high quality independent print publication in its 116 pages brought to you in full colour gloss or in digital format it carries superb images and interesting in depth articles from a team dedicated and passionate about the sport of trials.
For the UK subscribers check that letterbox from Thursday 26th March onwards and in the news agents for Friday the 27th. For all you guys on the go you can find it at most major UK airports and it is also available for a 'Sneak' preview and across all digital platforms to purchase at #pressreader or #issuu Web: http://bit.ly/Trial-Magazine-80
International: The 2020 FIM X-Trial World Championship.
What's the Story: Its business as usual at John Shirt Motorcycles.
Reflection: 50 Years of Renthal Success.
My Hero's: Fujigas at 40.
Quick Spin: 2020 Beta and TRRS.
Industry Insider: Graham Foster-Vigors – Honda UK.
World Party: Vertigo hosts the Party.
Ladies: Alicia Robinson.
Electric: TRRS ON-E.
Sport: British Championship Action – Solo and Sidecar.
Training: With the 'King' Toni Bou and Friends.
Re-Visited: A look at the 2009 Scorpa SY R.
Talk Trials: Toni Bou 'Feet-Up' and on board at Trial Magazine.
News: Find out more.
Observation: Bernie Schreiber on Tour.
Shopping: All the latest products on Show.
Paddock: Say no more, enjoy!
Superstore: All the latest gift ideas.
Dealer Locator: Find out where to go for all the latest trials products.
Subscription Form: Why not take a subscription or treat a friend.
Plus all the regular features including 'Talk Trials' with Toni Bou, News, Paddock Pictures and so much more – Remember it's only Trials!!
Make sure you don't miss out and get yourself a subscription or re-subscribe by contacting us direct: Mail: england@trialmag.com or telephone: 01663 744766 – 01663 749163 Please contact us by e/mail with your details or if we cannot get to the phone leave a message with your contact details.
Or go on-line for all Subscriptions and Costs, please view: www.trialmaguk.com
Picture Credits: All rights reserved – Trial Magazine – Trials Media