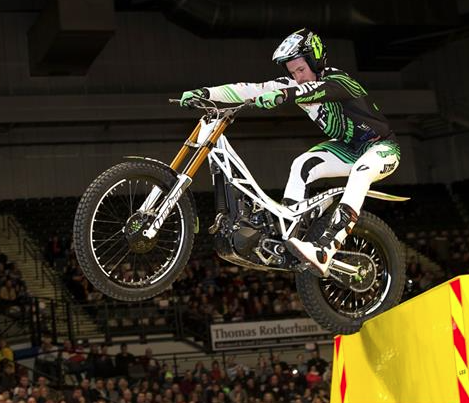 Exhibitors and traders are feverishly preparing for this year's International Dirt Bike Show which opens in a couple of weeks' time at 9.30am on Thursday the 29th of October 2015. Over the years, as soon as the darker nights of autumn start to draw in, a trip to Stoneleigh Park has become something of an annual, must-do event for those dirt-biking enthusiasts who have an interest in at least one of the many sectors the off-road scene has to offer. 
These days, the Show is about more than just modern motocross, as it has plenty to offer fans of all disciplines of motorcycling. In particular, the classic off-road area is expanding, and a comprehensive display of Classic Motocross des Nations bikes will be on show, as will twinshock bikes covering the late seventies and early eighties, with Maico, Suzuki, Yamaha and Honda all represented. Kawasaki too will exhibit a blast from the past with a KX250 from the late 80's early 90's in its traditional Team Green colour scheme. Alan Bott, the newly-crowned 2015 National Twinshock over-50s champ, will share his immaculate, original-spec, title-winning Maico 490 machine with Show visitors in the National Twinshock area.
Trials fans will be pleased to hear that established brands such as Beta and Sherco have stepped up to become part of the 'majors club', in the main exhibition hall, where they will display their new-for-2016 models. The new Vertigo Combat 300 in production trim, will get its UK unveiling at the Show, prior to going on general sale in November. The prototype version of the compact, two-stroke, fuel-injection machine has enjoyed a successful debut year in the hands of development co-ordinator Dougie Lampkin, who took the Spanish marque to Scottish Six-Day Trial glory earlier this year, and British Trials champ James Dabill who won his sixth national title on the Vertigo a couple of months ago. Visitors to the Show can check out the machine first, before witnessing the skills and agility of top-level riders such as James Dabill, Jack Price and Iwan Roberts putting it through its paces in daily Arena Trial shows, where they'll scale vertical obstacles, face sheer drops, balance on the narrowest ledge and tackle a series of enormous structures as used in the World Indoor Trials championship. Then they will go head-to-head in adrenalin-charged knockout races.
Popular with the youngsters, electric trials manufacturer Mecatecno has added an adult model to its range and is keeping an all-new bike under wraps to be launched at the Show. Elsewhere in the hall three Trials Zone, you'll find Gas Gas, with a selection of bikes and a range of top-quality trials clothing and accessories, and JotaGas makes a return with a number of light and nimble alloy-framed machines in the hands of new importer Haven Trials Sport. If you're looking to get your feet up in 2016, then a trip to the Show this year will be a good starting point.
Over four action-packed days, the Show will play host to a number of product launches, with the latest 2016 off-road machinery and accessories on display for the first time. It is also the scene of action-packed entertainment and a retail hall with stand holders waiting to tempt visitors with a variety of end-of-season and new-season bargains.
Find out more by visiting www.dirtbikeshow.co.uk and whilst there, why not save a bob or two and take advantage of money-saving advance tickets by following the BUY TICKETS HERE link, which will remain live right up until 11.59pm on Monday the 26th of October 2015.
Pictured: James Dabill on the new Vertigo at the 2015 World Indoor Trials Championships. Credit: Ray Archer Photography