Repsol Honda Team rider Toni Bou became the first leader of the 2021 TrialGP World Championship after claiming victory in the new campaign which got underway today in the Italian town of Tolmezzo. Team-mate Takahisa Fujinami finished in seventh place.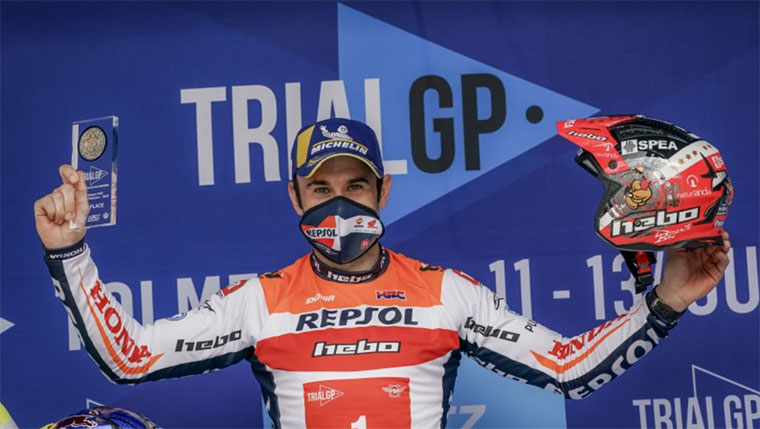 Just five weeks ago Toni Bou was lying on a stretcher waiting to be operated on for a left leg fibula fracture. Today, Toni Bou was back in the competition, finishing on the highest step of the podium, having sealed the win at the 2021 Trial World Championship curtain-raiser in Italy.
Without having prepared or trained as he had wished, the Repsol Honda Team rider was nevertheless able to endure the first day of competition held in Tolmezzo (Italy). Despite suffering some discomfort on the second lap of the twelve sections, Bou went on to claim the victory by a mere point ahead of arch rival, Adam Raga.
Japanese team-mate Takahisa Fujinami, found it tough to settle into the rhythm of the trial, committing several errors on the first lap, but by lap two was showing signs of improvement, getting his season off to a start with a seventh place finish.
Tomorrow sees day two of the 2021 TrialGP World Championship event, once again to be held in the same Italian town. Unlike today, however, the trial will kick off at 09:00.
Toni Bou   1
TRIAL: 1ST  OVERALL: 1ST
I am super happy with today's victory. I want to thank Dr. Joaquim Terricabras, Oriol Nevot, the physio, and all the team and family for the great work they have done during this last month so that I could be here today. From the first day of this tough month we have worked to get here, and in the end, we have achieved it and with a victory too. Physically, I wasn't expecting to win, so I'm even happier. In general, I felt better during the first lap, but after being penalized in section three I started to feel discomfort that got worse. Over this last month I have hardly been able to train, so on the second lap I have made a few more mistakes as my whole body was tired by then, but even so, I am very happy with the job done. Tomorrow will be very hard as I will be even more tired, but I will give it my all, as always.
Takahisa Fujinami   7
TRIAL: 7TH  OVERALL: 7TH
Today the first trial of the world championship was held, but we have not competed for a long time and at the beginning it was tough for me to find the race pace. By the second lap I was beginning to improve in the sections in which I had made mistakes on the first lap. I'm happy with my riding, but not so happy with the result. We are confident for tomorrow, so we'll go all out to improve on these results.
Miquel Cirera
Team Manager
As always today Toni Bou gave it his best shot. After the injury, when you see him riding and racing again, the truth is that it puts you at ease. We know that despite not being at 100% physically fit, Toni's level is outrageous and he is always ahead. The truth is that today, if he had just made the podium, we would have been happy, but he always wants more. I want to congratulate him and thank the team doctor Joaquim Terricabras and the physiotherapist Oriol Nevot, they are the reasons why Toni was able to win today after the injury. Tomorrow won't be easy for Toni after today, but I'm sure he'll do his best.