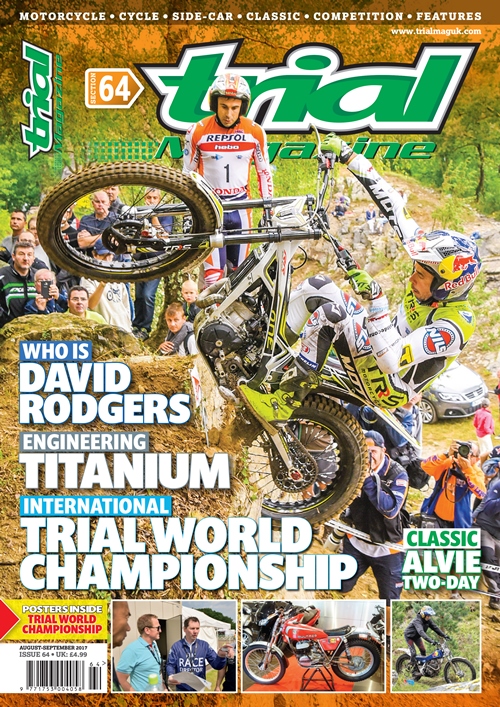 TRIAL MAGAZINE ISSUE 64 – A Full 116 Pages of Trials
For subscribers, look forward to it dropping through the letterbox any day now. New readers can subscribe at our website: www.trialmaguk.com by going to ShopTrialmag on the dropdown toolbar.
Yes Issue 64 is in full colour gloss with all your Trials Action, Events, Product Tests, Interviews and so much more for you full throttle addicted trials junkies! As you would expect from such a high quality independent publication in its 116 pages it carries superb images and interesting in depth articles from a team dedicated and passionate about the sport of trials.
Inside and full of action you will find:
New Models: 2018 starts early at Trial Magazine.
Who Is: The Trial World Championship Race Director David Rodger's?
International: We open the door on the 2018 Trial World Championship.
Team: What it's like to be part of the Spanish Federation Team.
Meeting: Glen Scholey – Yorkshire born and bred.
Workshop: Are we ready for fule injection?
Engineering: The very first Titanium trials machine.
Classic Competition: Alvie Two Day.
Dealer Visit: Mickey Oates Motorcycles – Montesa/Honda.
Sport: British Championship, Youth and the Mintex.
Cycle: It's time to come 'Clean' with Hebo.
Posters: Jaime Busto and Lorenzo Gandola.
Remember it's only Trials!!
CJ Publishing – Proud to be Independent
Make sure you don't miss out and get yourself a subscription by contacting Warners: Mail: subscriptions@warnersgroup.co.uk or telephone: 01778 392479.
The best 'Gift Idea' – Why not go online and subscribe: www.trialmaguk.com Subscriptions make an ideal gift that lasts longer than one day.