JST GGUK Youth Rider Jack Peace had a great second place in the Youth Class at the Belgium Euro round on Saturday.
Jack had a great last lap which got him to second place behind fellow countryman Toby Martyn. These two 'bang bars' most weekends and its great to see young talent coming through.
Jack and Jayne now travel to Switzerland for this coming weekends next round.
JST GGUK rider Dan Peace is now out of action because of his dodgy knee. Dan has been carrying this injury most of the year and his results and confidence have been affected. Ive advised Dan to stay off his bike until his knee is right. He will soon have an operation on his cartilage so Dan will miss the last BTC and the last two WTC.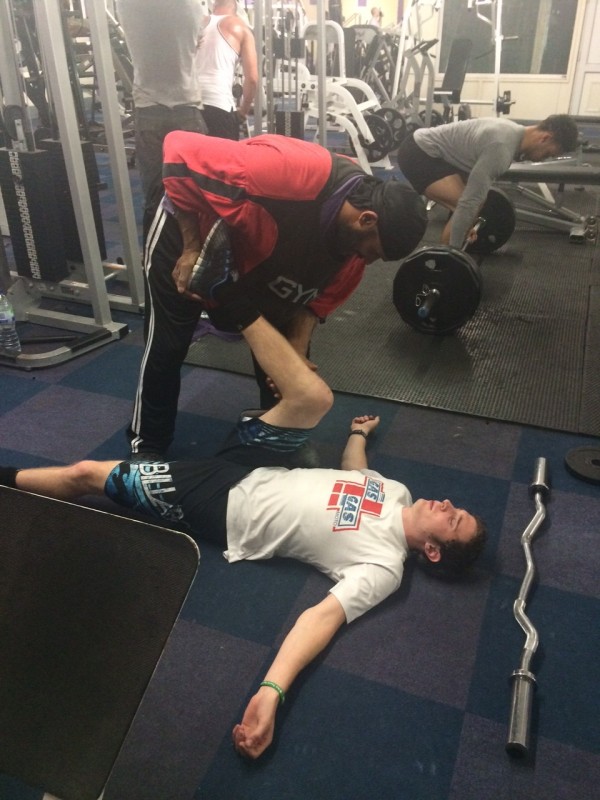 On the subject of Knees our No.1 JSTGGUK rider Michael Brown is improving slowly. Michael still only has 90 degree movement in his knee so the physio and gym work must be stepped up a gear! Jayne Peace has been great with Michael and he is now also been treated at 
www.harrisandross.co.uk
. He also being 'abused' at my local gym by the 1989 Mr.Universe 'Phil Louis'.
See attached pic…with my boy sweating with pain! or is that just the weakness leaving the body?
Michael will not be fit to 'race' The Scott. There is a big difference in 'riding' the Scott and 'racing' it and Michael certainly wants to race which unfortunately wont be possible.Theres some good low key events towards the end of the year that will see him making his comeback.
GG girl and bionic woman 'Nikita Smith' is also being treated at Harris and Ross and she is making very good progress. Nikita has been through HELL and there are too many people to thank. She is an amazing young woman who is determined she WILL be riding again which keeps her going.
Also at the weekend friend and GG Dealer Jack Lee organised and hosted his first 'John Lee Trials School' with World No.2 Adam Raga with fellow GG riders Alexz Wigg and Sam Haslam. The venue was superb thanks to 'La Familia Haslam' and im sure everyone enjoyed and learnt a few things, i know i did! Sams and Alexz soft approach worked well with the 'students' as did Adams with his slightly more 'direct' approach and instructions. The groups had the right amount of riders who all recieved good attention from the three Teachers. Jack 'headmaster' Lee deserves a big congrats for organsing the successful event as do his helpers, Factory Ade etc. Congrats to all.
Regards
Shirty