Toni Bou's – Repsol Honda twenty-eight event winning run that stretched back to January 2010 was brought to a halt last time out, so the big question is will Bou be back on top again when the 2015 FIM X-Trial World Championship comes to Barcelona, Spain this Sunday afternoon.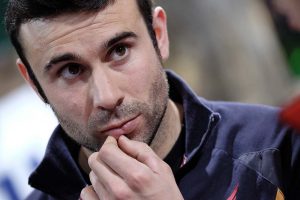 Whilst Bou was the first to congratulate Adam Raga – Gas Gas on his famous victory at the previous round in Pau, France the defeat will have definitely hurt the defending champion and series leader, and there would be no better place to bounce back than on his home patch this coming weekend. Despite this slight and perhaps unexpected set back Bou will bring with him to the Spanish city a twelve point lead at the head of the overall standings as the series moves into the second half of the season, with the three remaining rounds starting with Barcelona to be played out before the end of March.
Already an eight time winner of the indoor series, his triumphs all coming in successive years, Toni will have not hit the panic button just yet and will take great confidence in knowing that he has won in Barcelona seven out of the last eight times the event has been hosted in the Olympic facility. Only Raga has beaten Bou here during this period, Adam's Barcelona win in 2008 being his last in the series prior to his victory this February.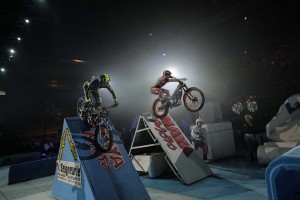 Like Bou, Raga too has breathing space over his nearest and relentless archrival Albert Cabestany – Sherco going into round four of the 2015 FIM X-Trial World Championship. By his own high standards and his other performances so far this season, Cabestany was poor in Pau and saw the gap to Raga in the general standings open up to thirteen points after he placed fourth in France. This was Albert's worst showing of the current campaign to date.
Fellow countryman Jeroni Fajardo – Beta was the beneficiary of the situation in Pau, as he gained his first podium placing of the 2015 season after twice finishing just off the box at the opening two rounds in Sheffield, Great Britain and Marseille, France. Fajardo now sits just six points shy of Cabestany with three rounds to go and has a real chance of catching and overhauling his elder rival on the run in if he can repeat the level of riding he displayed at the last round.
Like in Marseille, Alexandre Ferrer – Sherco was once again close to booking his place in the all important four man final in Pau, as the young French rider did his best to exploit his double home advantage with back to back events in quick succession. Currently fifth in the championship standings Ferrer will have to be even better this time out as he looks to prevent the fourth straight all Spanish final in as many rounds, as this time the Spanish riders look to make the most of their home support.
James Dabill – Vertigo is yet to shine on his new mount and will hope that he can turn the additional time he and the team have had since Pau into a better result, especially as this is the event for the all new Spanish squad that has bravely opted to develop its new machine on this unforgiving stage.
Sweden's Eddie Karlsson – Montesa will round out the fixed riders in Barcelona, as the emerging Scandinavian rider continues to make his mark on the series in his rookie season.
Seventeen year old – 2014 FIM Trial World Cup winner – Jamie Busto – Repsol Honda will make his debut in his new colours having been selected as the chosen wildcard entrant from a pool of many potential candidates. To see how Busto fairs and if Bou is back to his winning ways in Barcelona, follow the live results on the new free FIM app – available for download (Apple store & Android market) – don't miss any of the action by selecting the Sport button.