MY FIRST LOVE
Twin-Shocks were in their heyday when I started trials riding in the mid-seventies. I didn't change marques much in them days, Montesa, Bultaco and then Armstrong following the demises of the Bultaco factory. I have a special affinity for the 340 Bultaco as I won two of my Northern Centre Championships aboard them. I am sure that I am not the only one that looks back and thinks, 'why did I not stick a couple of them Twinshocks in the shed instead of selling them', I know I do. One December evening I got a phone call from a gentleman asking if I was Nick Shield the 'trials rider' as he had a Bultaco in his garage with my name sign written on the fuel tank. At first I thought it must be a wind up as the chap was called Mr Dollittle! After a few emails and photographs I decided the machine was definitely the last Bultaco I rode before the factory went into administration. It was actually owned by my sponsors – Sapphire Motor Cycles of Staveley, Cumbria. The usual negotiations ensued and I was on my way to sunny Wiltshire to pick her up, it was snowing like mad as I remember!
 Article Copyright Words and Pictures: Nick Shield – Classic Trial Magazine
The old girl certainly looked a bit sorry for herself!  But everything was there, even some new parts like the rear banana silencer box. Once home I drained all the old fuel out, cleaned the carburettor and filled her up with fresh fuel.  Dare I start her?  After six or seven kicks amazingly the engine fired up and it didn't sound that bad, a nasty rattle in the cylinder (which was to be expected) and a slipping clutch were noted. There was no nasty rumbling from main bearings or big end knocks, but no doubt more would be revealed when the engine was broken down. The project wasn't started straight away, when I do a rebuild I like to do it from start to finish in one exercise and so I spent six months trawling e-bay, visiting the Telford Show and ordering bits and pieces from Dave Renham – InMotion-Bultaco UK until the garage was bursting with Bultaco spares. My postman has requested another round! I was now ready to start.
Everything was stripped down and cleaned off, the frame went off to be sandblasted along with the yokes, mudguard brackets, tank and fork bottoms. I had acquired a different tank as the original was left with all the sign writing and decals on it, and now takes pride of place on the shelf in the garage. Once the frame was returned, modern footrest brackets were fitted (slightly back and down) and then sent to be powder coated. The other items were sent out to be painted blue along with a new pair of side panels so they would all be the same shade of blue.
The frame arrived back looking like new; so on went the new air box, chain guard and rear shocks. The bash plate was polished up and fitted, we were now ready to start the rebuild properly.
While the items were away getting painted the engine was stripped down to the bare bones, clutch flywheels and barrel were taken off ready for the engine to be split.
The bottom end went into the frame and all the components were carefully re-fitted. The clutch plates from another Bultaco I have were fitted, the other machine has Barnett plates fitted as it is used quite regularly. The clutch springs were set to ensure an even pressure plate release, tight enough to stop clutch slip, but loose enough so two hands were not needed to pull the lever in. Everything then got the usual lock wires fitted, new gaskets bearings and seals were fitted to everything. The engine returned from Sapphire and the casings and barrel got a re-spray using the trusty Werth heat resistant Matt Black.
Getting an oversize piston was becoming a problem, I tried everyone. Dave Renham had said he would try and pick one up for me on his next trip to Spain. I rung Dave Rowlandson at Sapphire Motor Cycles to tell him I was bringing up the engine for him to split and pop in new bearings, seals etc., but the re-bore would have to wait until I could source a piston. "Ring me back in half an hour" he said.  I rung back to be told, "Bring it all up".  He had found a new piston upstairs that he could modify to do the job, I couldn't believe my luck!
The new piston was fitted and once the barrel had been well oiled it was carefully slipped over the piston. The cylinder head was then fitted complete with the beefy aluminium head steady (the original pressed steel type had a habit of snapping)
The original carburettor was re-fitted following a thorough clean and the fitting of a new slide, the slide wears far quicker than the carburettor body and in the 80's we used to renew the slide about every six trials to keep the engine sweet.
A multi meter and dial gauge are used to set the timing which is critical on a Bultaco, a lot of people overlook this point and a little care when setting can make the difference between a good machine and a great one. A new set of points and condenser had been fitted to the original back plate. There are a lot of aftermarket electronic ignition kits on the market today, these make timing (with a strobe light) a lot easier and are also a lot more reliable. Back when these machines were ridden in anger we used to mount the condenser up under the fuel tank (along with a spare) so they could be swapped over if one failed mid-trial.
New Venhill cables were fitted throughout, but the original HT coil went back on.
The exhaust system was painted and re-fitted, a new banana back box had been fitted when I bought the machine and as the exhaust note sounded fine while I had her started, I decided that the messy job of cutting and re-packing the front box was not necessary. If I was rebuilding for serious competition, then repacking the front box would have been a must.
The wheels were broken down and had different (not new) rims laced onto the original hubs (the hubs had had steel liners fit at some point). I popped the front wheel back in and with all the new painted parts and shiny nuts and bolts it was starting to look the way it did when it first rolled out of the factory.
The rear wheel got the same treatment and with new spokes and nuts and bolts, things were looking good. New Newfren brake shoes were fitted front and rear. I didn't bother getting the shoes machined for a perfect fit as I knew the machine was never going to be ridden in anger!
The tank and the side panels were back, so new decals were fitted and they were gingerly re-fitted to the machine. I succumbed to a new seat from Bultaco UK, bought at the Telford Show, the original was just too far gone to rescue. It was then just bits and pieces like handle grips, oil in the gearbox (EP90) and the clutch (ATF) and we were nearly there.
The finishing touches were the last thing added, like the Sapphire Motorcycles Logo and the posers name on the top!
And we are finished! Probably looking better than when I last saw here in about 1983. I have been asked many times, "when are you going to ride it", but I probably never will. I have another 340 that I ride regularly, it has all the trick mods done to it to try and compete with the Fantic's and Majesty's that are in fashion at the moment. I don't have the same attachment to the machine I ride as I do to this one I have just restored and for that reason I want to keep it as original as possible and not knock it to bits riding in competitions against the highly modified twinshocks of today. There is something nice about restoring a machine you rode, but haven't seen for thirty years. I was told that if I hadn't bought it back, it would probably end up back in Spain and I couldn't let that happen could I?
As with any renovation project, outside help is vital and I would personally like to thank the following for their help and advice: InMotion – Bultaco UK – Dave Renham – Sapphire Motorcycles – Andrew Bingley – Edward Dobson.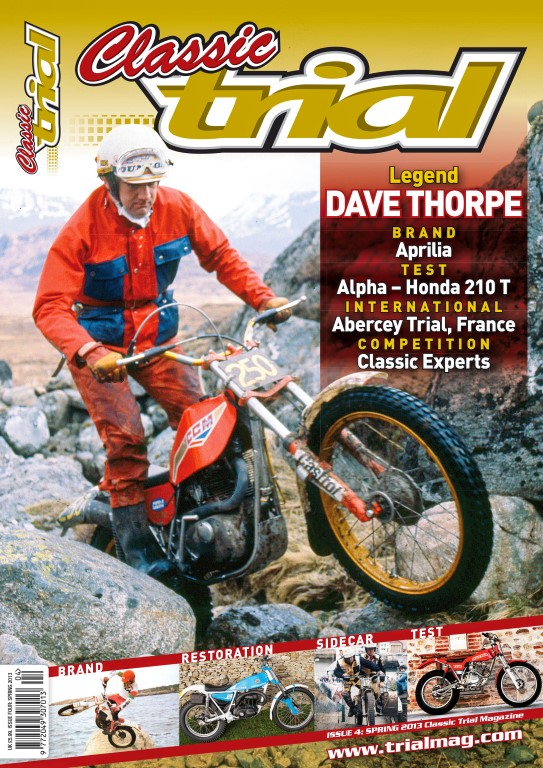 This article can be found in Classic Trial Magazine Issue No: 4
Cover Photo: Dave Thorpe (CCM) – Picture Credit: Erick Kitchen
Legend: Dave Thorpe – No Stop
Test: Alpha 210T – The Catalan Diamond
Brand: Aprilia – World Climber
Competition: Classic Experts – Welsh Wonders
Restoration: Sapphire Bultaco – My First Love
Discovery: Transama 320 – Swiss Technology
Interview: Giulio Mauri – Trials 360
International: Arbecey 2012 – Lost In France
Sidecar: Mike Rapley – Rappers Rocks
First Time: Beta 50 – A Beautiful Sport
Visit: Trail and Trials
Yes we all have the 'Need to Read' in the current Covid 19 lockdown.
 Go along to the black drop-down toolbar on www.trialmaguk.com
Click on 'Back Issues' and the toolbar will drop down. Select the copy or copies of Classic Trial Magazine you want to order, which country zone you are and order, it's easy to pay with Paypal.
Find out what we have in stock by visiting: www.trialmaguk.com