About
Trial Magazine is published by
CJ PUBLISHING LIMITED
48 Albion Road, New Mills, High Peak,
Derbyshire, SK22 3EX. UK
Tel/Fax: 0044 1663 749163
Co-Managing Directors : John Hulme & Charles Benhamou
Executive Director : Philippe Benhamou
Editor & Commercial Manager : John Hulme
Editorial Staff : Editorial Staff : Cyrille Barthe, Heath Brindley, Jean Caillou, Phil Disney, Matthew Heppleston, John Moffat, Mike Rapley, Barry Robinson, Nick Shield.
Photographers/Contributors : Cyrille Barthe, Colin Bullock, Heath Brindley, Mario Candellone, Malcolm Carling, Andy Gregory, Brian Holder, Eric Kitchen, Trials Media, Don Morley, Justyn Norek Jnr, Mike Rapley, Barry Robinson, Leah Robinson, Josh Turner, Mauri/Fontsere Collection, and Giulio Mauri Copyright, The Nick Nicholls Collection at Mortons Archive, Motorcycle News, Alan Vines, Toon Van De Vlight, Yoomee.
Proof reading : Davina Brooks and Jane Hulme.
Design and Production : Dean Cook, The Magazine Production Company
Printing and Distribution : Buxton Press
Webmaster www.trialmaguk.com : Heath Brindley
Mail Order : www.shoptrialmag.com
CJ Publishing Limited is a Company Registered in England Number: 5947718 – ISSN: 1753-0040
© 2014 CJ Publishing Ltd. All rights reserved. No part of this publication may be reproduced or transmitted in any form or by any means without the prior written consent of the Publishers. Great care is taken to ensure accuracy in the preparation of this publication, but neither CJ Publishing Ltd or the editor can be held responsible for its contents. The views expressed are those of the contributors and not necessarily those of the Publishers.
Advertising
Give more visibility to your brand, your products, your services to a targeted audience.
Keep in mind that our readers are mostly owners of motorcycles, trials or aspiring-and industry professionals.
Our average reader is both young and old and a motorcycle or trials enthusiast with a passion for the sport.
He discovered trials through his family or his friends.
As well as worldwide exposure both Trial and Classic Trial Magazine can be found on our high-speed internet website.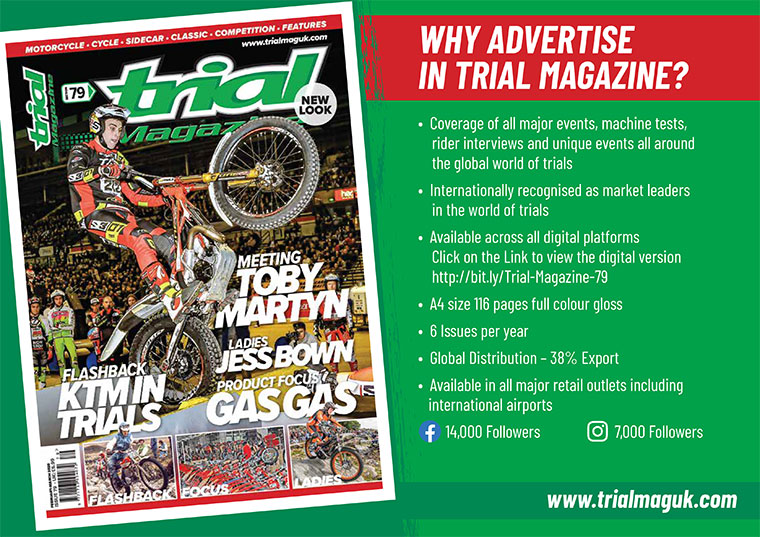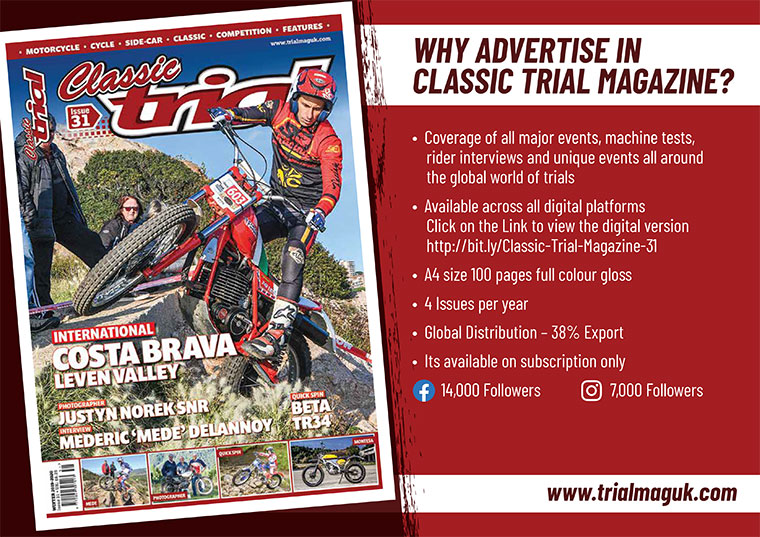 For further information: england@trialmag.com  or contact by phone at 01663 749163 – 01663 744766