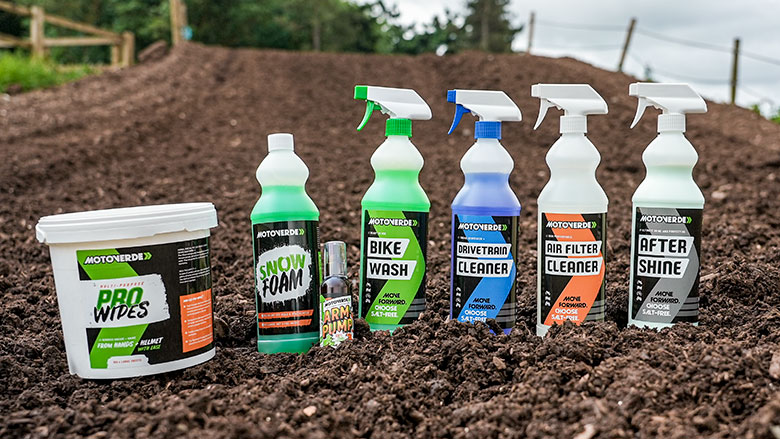 Apico Factory Racing is proud to announce it will distribute the full off-road range of Motoverde cleaning and care products to the U.K. dealer network. The company's original salt-free bike wash has a unique selling point, as it can be used to clean your riding kit as well as your bike!
Motoverde has a full range of complimentary products that cater to different areas of your bike available in different size ranges from 125ml chain lube through to the workshop 25L concentrated bike wash, snow foam, and after-shine products. With a well-supported rider social program, including our Apico Husqvarna race team, the range of Motoverde products should complement Apico's existing stable of brands very well. There's the opportunity for dealers to top their regular Apico parts orders with single quantities on Motoverde products, something that other off-road distributors do not currently offer.
Dylan: "We're happy to announce that we are now distributing the best bike cleaner available to the off-road market, Motoverde. I was initially approached by Matt Hill, Sales Director at Motoverde, at the beginning of the season in my role as Team Manager for Apico Husqvarna to be sponsored with the product. This gave me a chance to see how the range of products worked firsthand and get feedback from the riders and mechanics. To say I was impressed was an understatement, I managed to negotiate the right deal for Apico with Motoverde and here we are. I look forward to building our relationship and supporting our dealer network with the brand".
Matt: "We are delighted that Apico has welcomed our brand into their already impressive portfolio. After working closely with Dylan and the team this year, it was clear that they have a great passion for the industry and the brands that they choose to work with. This gives us the utmost confidence in beginning our relationship and we are excited for our products to be available to the Apico dealer network."