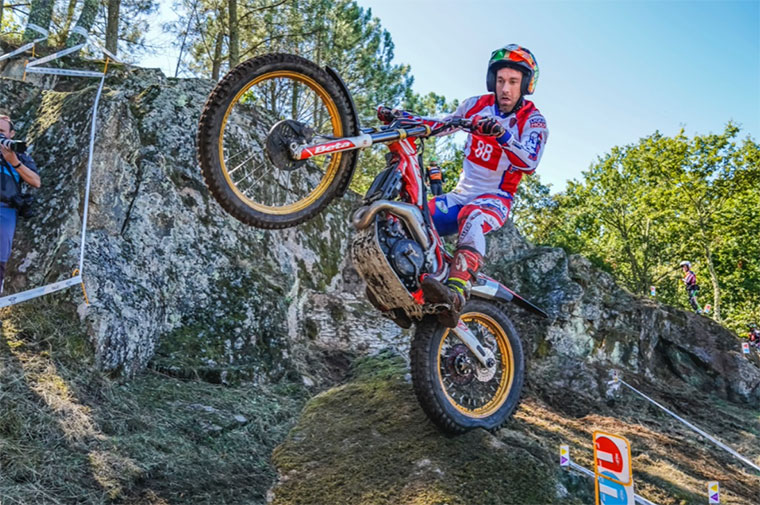 A fighting third on the opening day of the Hertz FIM Trial World Championship on home turf at Tolmezzo, the factory Beta rider went on to claim two further podiums – including a second-placed finish at the French TrialGP at Charade – as he ended the year a career-best fourth.
The icing on the cake for Matteo then came on December 17 when his partner gave birth to a son they have named Achille.
"It was great to be on the third step of the podium in Italy," he said. "It was important to give me the energy to face the season to the maximum."
Italy's involvement in top-flight trial can be traced all the way back to 1972 when a round of the FIM European Championship – which became a full world series in 1975 – was staged at Selvino where Martin Lampkin came out on top.
Despite this long and rich history, Italy has never produced a world champion at the highest level – although the late Diego Bosis came close when he finished second behind Jordi Tarres in 1990 and Donato Miglio was third on two occasions, in 1988 and again in 1990.
Matteo struck FIM gold with his Trial2 titles in 2018 and 2020 – he was runner-up in the class in 2019 – and his performance last season has rejuvenated the top-flight career of the 33-year-old whose highest world ranking before 2021 had been seventh in 2013.
Competing in a field packed with hungry young talent, the man from Bellano – just a stone's throw from the Swiss border – knows that 12 years on from his Hertz FIM Trial World Championship debut he still has a lot to offer and, more importantly, is still very much a podium threat.
"Certainly, my experience in some situations helps me a lot and it is something that should not be underestimated. During the winter I am preparing myself by doing gymnastics and training hard with the bike.
"For 2022 I have set myself the goal of trying to replicate the 2021 season and why not maybe be able to finish on the third step of the podium?"
The 2022 Hertz FIM Trial World Championship is scheduled to get under way with the Japanese TrialGP at Motegi on May 20-22. For regular updates check out our social media platforms on Facebook, Twitter and Instagram – just search for TrialGP.