Gasgas Ace Finishes on the Podium in Vendee to Wrap-Up 2023 Series in Style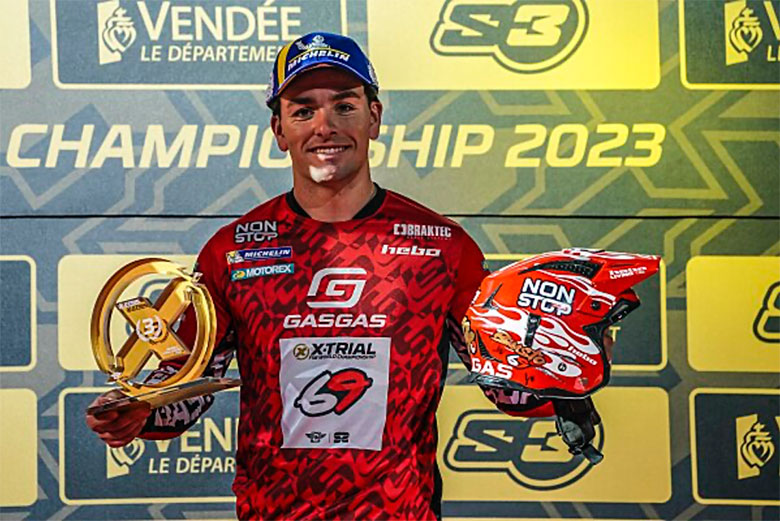 GASGAS Factory Racing's Jaime Busto has finished on the podium and third overall at the seventh and final round of the 2023 FIM X-Trial, the X-Trial Vendee in France. Back to his best and performing super-well throughout the Saturday night event, Busto's result ensured he also placed as a well-deserved runner-up in the final championship standings.
2023 X-Trial championship draws to a close in Vendee
Busto claims third overall in France
Spanish ace finishes second in 2023 X-Trial championship
Focused 100% on finishing as runner-up in the X-Trial championship, Busto hit the ground running in lap one, producing the third-lowest score through the five sections. With the opening lap complete, Busto raised his game for the four sections of lap two, posting the second-best score and collecting just four points – just three behind best-scoring Toni Bou.
Into the final as the second-best scoring rider and Busto made the perfect start – completing the opening section with a zero score and as the only rider not to pick up any points. Frustratingly, the remaining five sections didn't go quite as well, with Busto making a number of small but costly mistakes. But, having made it into the finals, the Spaniard ensured he did all he needed to do to secure the necessary points to claim second in the 2023 X-Trial World Championship.
Nice work, Jaime!
Jaime Busto: "Despite things not going like they could have done in the final, I'm really happy with my riding and how everything went here in France. I had such a good feeling with my bike, and I felt like I rode really well during the first and second laps. The finals started so well, with a zero score on the first section. At the end of the night, I had one mistake more than Toni and Gabriel, which put me in third. But importantly I got the runner-up result in the championship, which is great for the team. Everyone has put so much effort into this, it's been an amazing team effort."
Albert Cabestany – GASGAS Factory Racing Trial Team Manager: "Of course, we end this 2023 X-Trial really happy with the performances of Jaime. Our goal was to fight for the title, and here with Toni as champion to fight with him for the win, and we did that. This was a race with a lot of pressure and at key moments Jaime rode really well. He was super strong on the first and second lap. With his runner-up position in the championship already secured he could really go for it in the final. He was a little unfortunate in the final, but, well, that can happen. He made a great start cleaning the first section, but after that, things slipped away from him. Anyway, it's been a fantastic season both indoors and in TrialGP, and together with all of our partners and sponsors we have had many, many great times in 2023. Now, we look forward to a little rest and then getting back into training and working hard towards the 2024 season."
Results – 2023 X-Trial World Championship, Round 7
1. Toni Bou (Montesa) 13 final
2. Gabriel Marcelli (Montesa) 13 final
3. Jaime Busto (GASGAS) 25 final
4. Aniol Gelabert (Beta) 22
5. Adam Raga (TRRS) 23
6. Benoit Bincaz (Sherco) 30
2023 X-Trial Championship Standings (after round 7)
1. Toni Bou (Montesa) 127
2. Jaime Busto (GASGAS) 87
3. Gabriel Marcelli (Montesa) 82
4. Adam Raga (TRRS) 57
5. Toby Martyn (Montesa) 36
6. Aniol Gelabert (Beta) 34