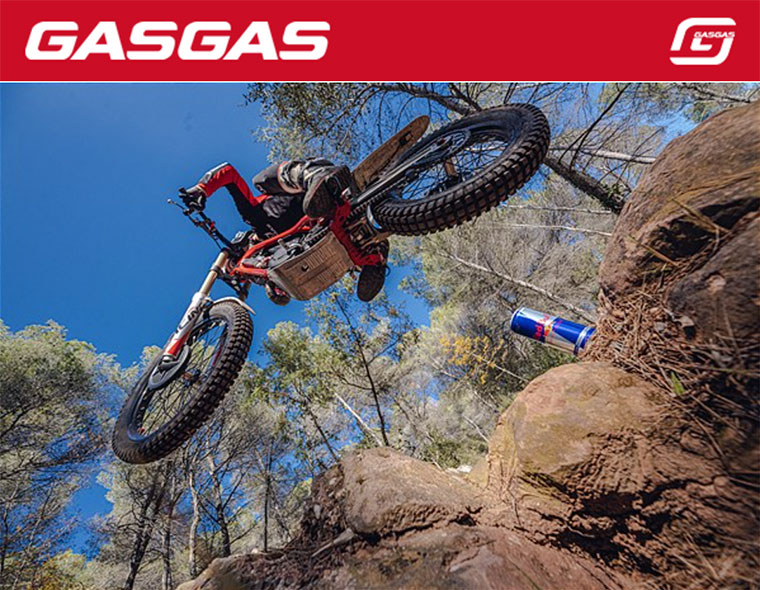 BUNNY HOP OVER A CAN FOR YOUR CHANCE TO WIN A COOL €300.00 VOUCHER!
Following the success of last month's challenge, we're back with another test of your riding skills. This time it's a classic – the bunny hop! We're looking for riders of all ages and abilities to join in and give it a go, and be in with a chance of winning a cool €300.00 voucher to spend on GASGAS Technical Accessories and Apparel. Fancy giving it a go? Of course you do! To enter, simply upload your best video or photo onto Instagram, add #TrialChallenge in the caption, tag two friends, and then we'll pick a winner later this month. Good luck!
#TrialChallenge two unveiled
Join in the fun and win a €300.00 voucher!
Check out last month's winning entry right here!
For #TrialChallenge two, we're revisiting one of the oldest tricks in the book. Simply place an empty can of Red Bull, MOTOREX Chain Lube, or something a little smaller if you're not feeling overly confident, on a flat surface, then ride up to it and hop over without making contact. Easy or not, it's not all about how high you can go as we want to see how entertaining you can make it too!
The best bunny hopper this month will receive a cool €300.00 voucher to spend on GASGAS Technical Accessories and Apparel. Our easy-to-follow rules to enter this challenge, are…
1. Upload a video or photo of you completing the challenge onto Instagram
2. Add #TrialChallenge in the caption
3. Tag two friends and let the global battle begin!
Stay tuned to our Instagram account and our website as we'll be sharing some of the best entries throughout the month to highlight a few of the entries. Who knows, it could be you!
Not sure if you're ready for #TrialChallenge? Don't worry, we have a complete 'how-to' trial riding video tutorial series that's designed specifically to help riders develop and master essential new skills, including the bunny hop!
Check out The GASGAS Trial Guides 'how-to' video tutorial series now, on the GASGAS website!