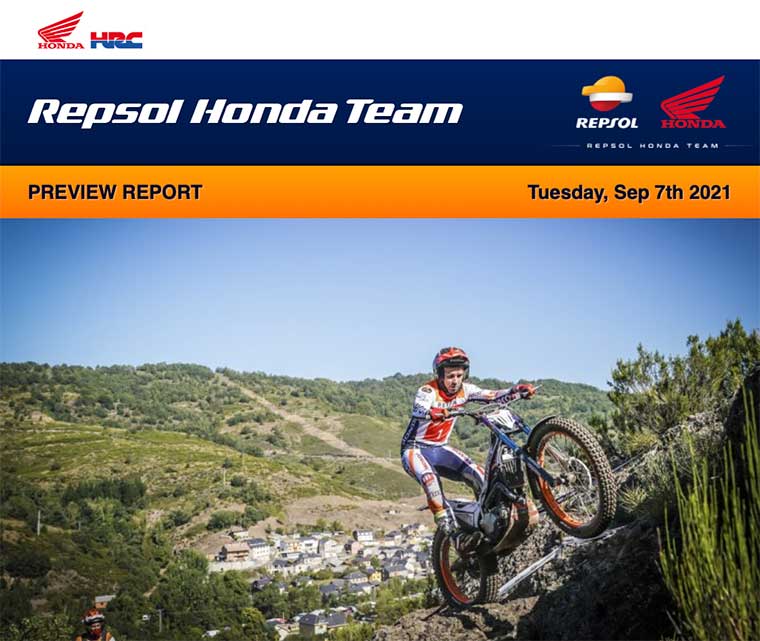 The TrialGP World Championship resumes activity this coming weekend with competitors tackling the penultimate trials of the campaign with Spain first, this weekend, followed by Portugal a week later, as the curtain comes down on the 2021 calendar.
Toni Bou and Takahisa Fujinami are poised to face the final rounds of the 2021 TrialGP World Championship. To wrap up the season, the Repsol Honda Team riders will first take part, this coming weekend, in trials 7 and 8 of the World Championship, held in Pobladura de las Regueras, replacing the originally scheduled date in the Galician town of Baiona.
Bou arrives as clear championship leader after claiming four wins out of the six events held so far. The current champion holds an eleven-point advantage over his main rival in the battle for the title. The Montesa Cota 4RT rider will hope to come away from the Spanish round of the World Championship having further widened the gap at the head of the overall leaderboard. Toni Bou took victory last year in Pobladura on both dates of the double-header.
Meanwhile, Bou's Japanese Repsol Honda Team brother-in-arms, Takahisa Fujinami, currently fifth in the general standings, has a double opportunity to move closer to the podium positions. It will be far from an easy mission, with one of the narrowest and most evenly-matched fields seen in recent seasons. However, 'Fujigas' could well spring a surprise in the high altitude mountain trial.
Indeed, the trial at Pobladura de las Regueras will play out over a route some 900 metres above sea level, with some sections even reaching 1000-plus-metre altitudes. The Spanish TrialGP, like the one in 2020, will be a double-date event held on Saturday and Sunday, featuring a five-kilometre route consisting of twelve sections to be tackled over two laps.
Toni Bou  1
RANKING: 1ST 
POINTS: 112
Yeah, even though last year the conditions were quite different, we managed to win both days here in Pobladura and the goal for this weekend will be the same. We got the good sensations back in the previous trial in France and we hope to be able to stay on the same track in order to keep hold of the lead in the final two events.
Takahisa Fujinami  7
RANKING: 5TH 
POINTS: 69
The Pobladura trial won't be easy at all. It is tough and quite technical with some very hard sections. We struggled last year and certainly this year things will not be much different. I will try and make it onto the podium or close to it, in the same way as I did in France. The equality between the riders is notable and it will be a battle, but we are fully prepared for it.