Since its inception in 2017 the TrialE class of the Hertz FIM Trial World Championship has been a closely-observed – and closely-contested – category.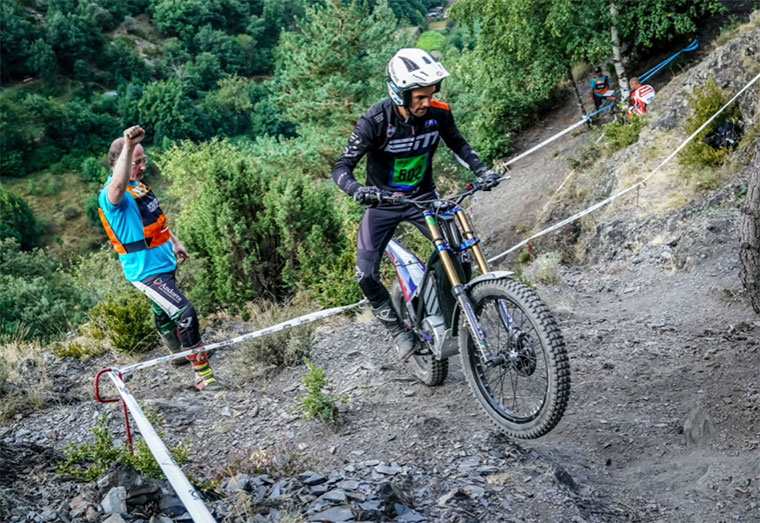 With electric cars now a common sight on roads worldwide and even a Formula E series for four-wheeled racing fans, competitive electric motorcycles are equally inevitable and the FIM has recognised this fact by scrapping the TrialE class and instead allowed electric machines to compete head-to-head with conventional combustion-engined bikes.
French company Electric Motion has been at the forefront of technological advancements in this fresh and exciting form of motorsport and the FIM's ground-breaking decision has been welcomed by former world champion Marc Colomer.
"It's going to be a great opportunity for electric motorbikes to be able to compete with petrol motorbikes," he said. "This will allow us to evolve faster and also to demonstrate the advantages that electric bikes are starting to offer now."
The legendary Spanish rider heads up EM's red-hot R&D Department and as world champion back in 1996 – not to mention the winner of the inaugural TrialE Cup five years ago – his unquestionable expertise straddles both forms of power delivery.
After joining EM in 2019 the 47-year-old has become an integral part of the company's development drive, working closely with his team on producing both production and competition bikes.
For 2022 EM is fielding Gael Chatagno in Trial2 and Margaux Pena in Trial2 Women. Gael, who won the TrialE title last season, impressed everyone earlier this month when he rode to a top-20 finish on his E-Pure model in the legendary Scottish Six Day Trial and clearly demonstrated that in the right hands electricity works equally as well as petrol in even the toughest events.
The 26-year-old Frenchman from Marseille – Trial125 champion back in 2014 – finished a fantastic 19th and also won the awards for 'Best Up to 200cc' and 'Best Foreign Rider' and was ranked third in the hotly-contested 'Best Newcomer' category.
For Marc and the EM team it was a vitally important result which, despite no shortage of logistical challenges, proved that electric bikes can be quickly and efficiently recharged.
"These are different challenges and we have to take it step by step – participating in the SSDT is a priority for us right now and we have high hopes to show the potential of our E-Pure in the most demanding trial event in the world."
The next big test will come on June 10-12 at L'Hospitalet de L'Infant in Tarragona, Spain, at the opening round of the 2022 Hertz FIM Trial World Championship when Gael will get his Trial2 campaign under way.
"For us it is important to take this step and we will see the level we can reach, knowing that it is a very high jump in level compared to TrialE," added Marc. "We are very optimistic with the developments we have made and Gael is very adapted to our bike and this is also very important for him to get the most out of it.
"Apart from the result, the image and professionalism of our pilot is also very important.Gael is very committed to our electric project – this is very important so we are very happy with Gael.
"In any case, we will take advantage of the experience in high-level competition to continue improving our products for our customers.
"At the moment we believe that with Gael we can achieve good results because, as I said before, he is very well adapted to the electric bike – which is obviously different from a petrol bike – so we have the right rider for us right now."
For regular updates check out our social media platforms on Facebook, Twitter and Instagram – just search for TrialGP.