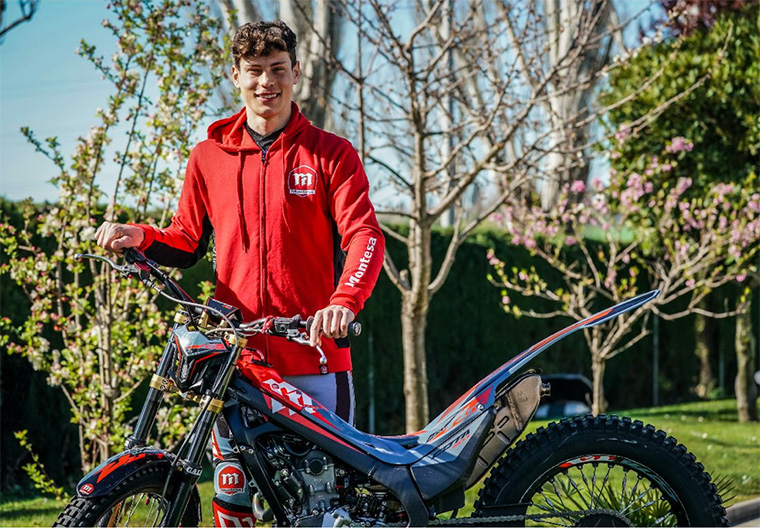 The Montesa team have extended their agreement with rider Gabriel Marcelli, 2019 TR2 World Champion and sixth overall in the elite TrialGP class last year in addition to finishing seventh in X-Trial.
The 21-year-old Galician promise Gabriel Marcelli (O Rosal, February 4, 2000) – a former apprentice of the Montesa Talent School – has re-signed with the Montesa-Honda factory and is set to represent the Spanish brand at the highest level in both the Spanish national and world championships.
After winning the overall European Championship and the Trial2 World Championship in 2019, Marcelli made the leap into the top flight category last year, claiming one podium finish and three-fourth places before finishing in a noteworthy sixth final position. In X-Trial he was selected to compete in the World Championship and achieved a third position in the X-Trial of Budapest, finishing in seventh place at the indoor season.
In 2021, Gabriel Marcelli will once again participate in the Spanish and the World Championships aboard the Montesa Cota 4RT, in the official Montesa team with several personal sponsors: C4bicaje, Uniter, Marta's as well as S3, Banyeres, SIL Lubricantes, Gaerne, Alukplast and Moto Club Arteixo.
GABRIEL MARCELLI, TrialGP Montesa rider

I am very happy to continue at Montesa-Honda and to be able to do so with such great guarantees. Last year was a very good year for me and although I know it will be a tough year, I hope that I can get some good results. I renewed my agreement with Montesa-Honda and I hope to ensure a good season. Thus, I have the support of my sponsors: C4bicaje, Uniter, Marta's, S3, Banyeres, SIL lubricantes, Gaerne, Alukplast and Moto Club Arteixo.

I would like to thank Montesa-Honda and my sponsors for their support and I also wish to thank my fans and followers for their support and I want to let them know that soon we will be back on the bike battling for the best results.