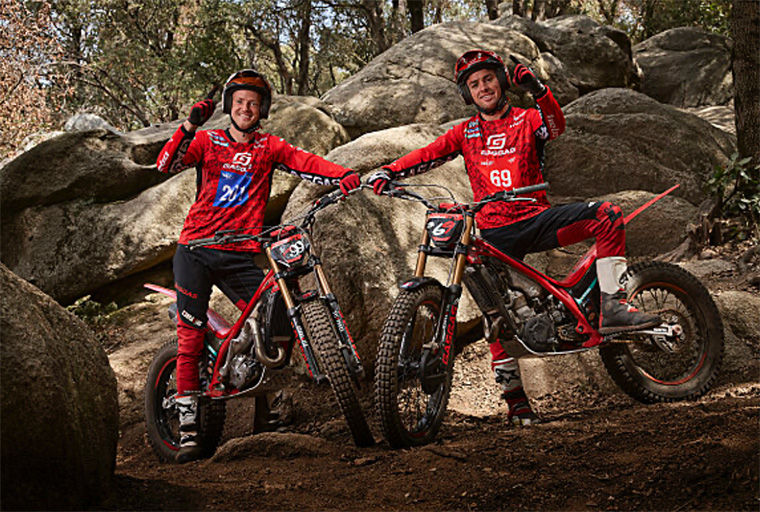 JAMIE BUSTO AND SONDRE HAGA SET FOR FIRST TRIALGP EVENT OF THE YEAR IN SPAIN
Let's take things outside! With a handful of successful X-Trial events under their belts, GASGAS Factory Racing's Jamie Busto and Sondre Haga will soon roll up their sleeves and dive headfirst into two full days of competition this weekend as they take on the opening round of the 2023 FIM TrialGP World Championship in Arteixo, Spain.
Jaime Busto ready to lead GASGAS into 2023 TrialGP season
Spanish opener first of seven two-day TrialGP events this year
2022 Trial2 champ Sondre Haga focused on title defense
Super motived, fit and healthy, and having shown some impressive form indoors during the opening rounds of the X-Trial series – including his sensational win at round two in Austria – Jaime Busto can't wait to get his 2023 outdoor campaign started this weekend. A rider who feels stronger outdoors than competing inside arenas, Busto is focused on one thing and one thing only – improving on his runner-up finish in last year's championship!
For Haga, 2023 is all about defending his 2022 Trial2 crown. Now living in Spain and putting in the hours training together with teammate Busto and team manager Albert Cabestany, Haga has been doing all he can to be fitter and better than ever before. Embracing the unenviable task of defending a title – something that's never easy in any form of motorcycle sport! – Haga's fired up for the challenge and looking forward to the task in hand.
Jaime Busto: "I'm really motivated for the first race. We have been training really hard with all the team and we have done a great job. We already showed our level in the X-Trial championship and my feeling on the bike is amazing. I want to get the season going. I feel better when riding outdoors, I have a better feeling on the bike and my riding is more natural, it fits my style better. It'll be my first outdoor race with GASGAS. For the moment we have done a great job indoors, so I just want to get to the race and enjoy it. We'll try to fight for the best result and the win in every race so that we can be in the fight for the championship. From the X-Trial to TrialGP the bike is quite similar, just some suspension changes to help improve the feeling and nothing else. I like outdoor events more and I can follow my flow more, so we'll see what we can do."
Sondre Haga: "We've done some good training and we have done quite some races. Racing is the best training and I'm feeling really good on the bike, it's obviously a bit hard to adapt to a new bike but it's has gone really good and things are going great, so I'm looking forward to getting the season going. Having Cabes and Busto in the team definitely helps me. Jaime is really good and is performing at a great level, so I know what the bike is capable of doing and it gives me confidence. Cabes also has a lot of experience so to be able to learn from him is really cool. I won the Trial2 championship last year and the goal is to do it again this season. Winning things twice is not always easy, but we're prepared for this task, and I hope for a good start to the season in the races in Spain and Portugal. I'm living in Spain now, so I think I'm used to the terrain that we'll see there. I have never been to Arteixo, but I have seen videos and it looks like there'll be good grip. There are a couple of new rules this year so it will be a bit interesting to see how they play out. It'll be a bit of chaos in the first round, but it's the same for everyone so we'll see how it goes."
Albert Cabestany – GASGAS Factory Racing Trial Team Manager: "Preseason has been quite tight this year, but it's been good. We're happy and confident, I think we have the best possible team to fight in every class. With Jaime we will fight for the win in every race and for sure Sondre will do the same in Trial2. Also, we have Jack Dance who's been progressing really good since he was a 125 rider. Basically, we have a solid team, which we are super proud of. Jaime is stronger in outdoor trial than indoor. Of course, he's at a top level also indoors as we have seen him fighting for wins in every round, but his style is even better for outdoors so I'm confident that we'll be there and make things difficult for our rivals. The goal for the first round is clear, we're positive and want to fight for the win. Sondre is the reigning Trial2 World Champion so in his mind he has to go for the win and it's the same for Jaime, who finished as runner-up last year in TrialGP. Jack improved last year in Trial2, so he'll try to fight for podiums. We're pretty confident, but of course we're not relaxed and thinking that everything will be easy. We realize how difficult the task is, but we know we have the tools to make it happen."