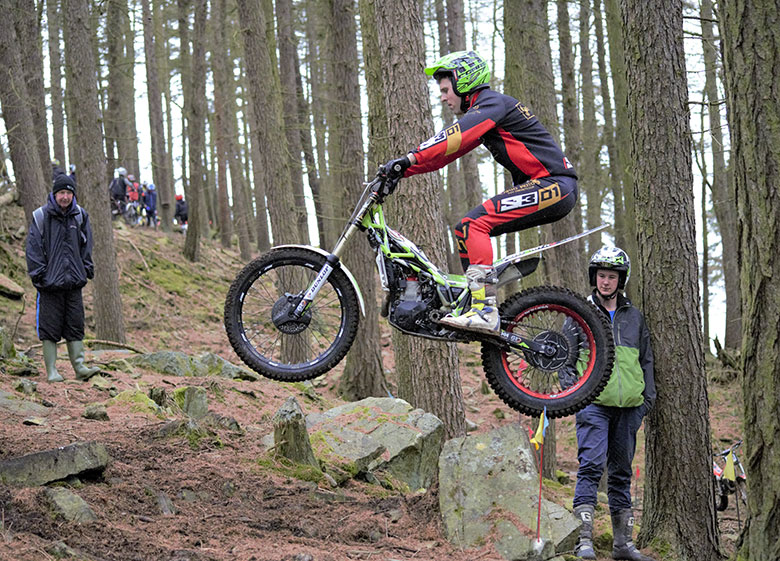 Richmond Motor Club held their Harold Graham Memorial Trial at Cogden Hall, Grinton on Sunday 19th February 2023.
A few nights of rain coupled with strong winds meant both the becks and scores were quite high on the day, when over 100 riders tackled the Main Course and 14 youths did well on the Conducted Course.
On the Hard Course, local lad Jack Stones (Vertigo) took the lead, dropping 47 marks. Tom Middleton (Vertigo) came in second, losing 54 marks and Matthew Maynard (Sherco) rounded off the top three with 63 marks lost. Callum Fowler (Beta) was the only A Class Youth rider who tackled the Hard Course, finishing with 101 marks lost.
Roger Williams (Beta) had a convincing win on the Clubman A (Green) Course with 26 marks lost, with second-place being filled by Gary Pears (Scorpa) on 53 marks lost. James Cameron (GASGAS) followed closely behind, losing 53 marks.
On the Youth Green Course, Charlie Astwood (Sherco) led the way, dropping 77 marks. Jack Vasey (Beta) followed in second with 88 marks lost, and George Hird (Sherco) was third, losing 93 marks.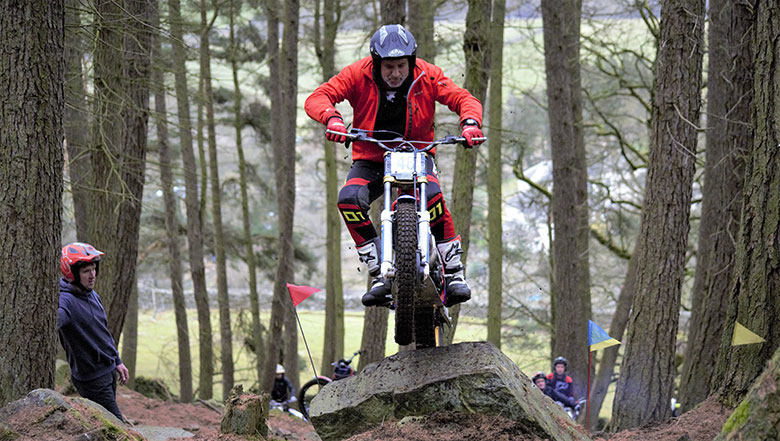 The Over 40s stormed the Clubman B Route, with the top three overall Clubman Course winners also being in the Over 40 Class. Paul Sadler (Vertigo) led with 21 marks lost, followed by Adrian Harrison (TRRS) on 30 marks, with Tony Holmes (Beta) closely behind on 32 marks lost. 1st place in the Twinshock Class was Callum Cook (Fantic), who showed the modern bikes how it was done, losing 53 marks and coming in 12th position overall in the Clubman Class. James Cook (Fantic) was 2nd in the Twinshock Class, losing 64 marks, followed by Stephen Watling (SWM) on 84 marks.
The Youth A Class saw Sam Chapman (Beta) win on 69 marks lost, followed by Koby Smith (Beta) on 78 marks. Bobbie Pulman (Beta) was third, dropping 98 marks.
The Conducted Course youths did well despite the weather conditions, with Bailey Huntbach (Beta) leading the C Class on 14 marks. Alfie Astwood (Beta) with 29 marks, and Matthew Hall (Beta) with 40 marks lost finished off the top three.
In the D Class, Jacob Smith (Beta) won on an impressive 14 marks lost, followed by Ben Crinson (Oset) on 50 marks, and Sid Bainbridge (Oset) on 53 marks.
Richmond Motor Club would like to say well done to all riders, and a huge thank you to all observers, landowners, Clerk of Course and helpers, Secretary and everyone else involved in the running of the trial, particularly as it was a very cold, wintery day!
Results:
Hard Course (Intermediate): 1. Jack Stones (Vertigo) 47, 2. Tom Middleton (Vertigo) 54, 3. Matthew Maynard (Sherco) 63
Hard Course (Novice): 1. Thomas Fraser (Vertigo) 72, 2. Richard Fraser (Sherco) 76, 3. Ryan Brown (Beta) 85
A Class Hard: 1. Callum Fowler (Beta) 101
Clubman A (Green):
Overall & Over 40 Class: 1. Paul Sadler (Vertigo) 21, 2. Adrian Harrison (TRRS) 30, 3. Tony Holmes (Beta) 32
CM: 1. Roger Williams (Beta) 26, 2. Gary Pears (Scorpa) 53, 3. James Cameron (GASGAS) 56
Youth Green: 1. Charlie Astwood (Sherco) 77, 2. Jack Vasey (Beta) 88, 3. George Hird (Sherco) 93
Conducted Course:
Youth C Class: 1. Bailey Huntbach (Beta) 14, 2. Alfie Astwood (Beta) 29, 3. Matthew Hall (Beta) 40
Youth D Class: 1. Jacob Smith (Beta) 14, 2. Ben Crinson (Oset) 50, 3. Sid Bainbridge (Oset) 53
Photos: Rob Blueman
Report: Charlotte Brown
Charlotte Brown
Richmond Motor Club Social Media Editor & Media Reporter