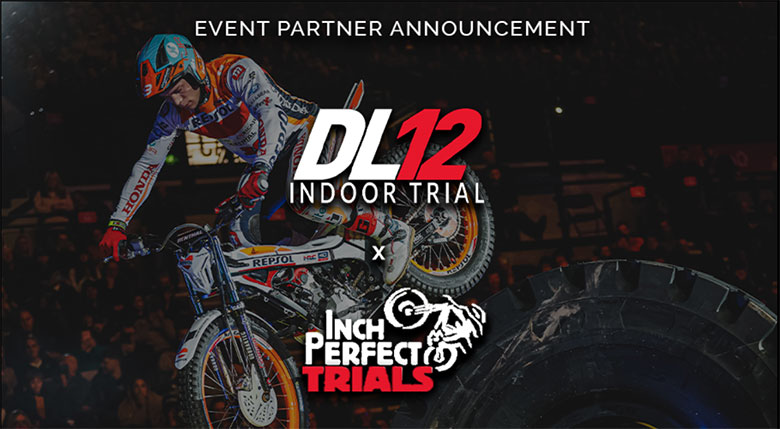 Following on from its invaluable support of the inaugural DL12 Indoor Trial earlier this year, Inch Perfect Trials is remaining onboard and will be throwing its weight behind DL12 Indoor Trial V2.0 as Official Retail Partner for the event at the Utilita Arena, Sheffield on Saturday 13 January 2024.
Based in the Ribble Valley in the north-west of England, Inch Perfect Trials is a multi-faceted business that encompasses all areas of the sport, from teaching raw beginners the basics to providing bikes and riding kit for top professional riders.
The number one Montesa Honda and Electric Motion dealer in the world, Inch Perfect Trials is also the UK's leading OSET dealer as well as running a series of experiences and training days at its custom-built Trial Park set in one-hundred acres of land in Lancashire where none other than Dougie Lampkin is resident Pro Instructor.
Inch Perfect Trials put its name to the log section in January and in the New Year it will once again sponsor a section as well as having a big presence in the Trial Expo area.
Event co-promoter Dougie Lampkin said: "It is great news that we will continue to have the support of Inch Perfect Trials in 2024. Just like us, the team there live and breathe the sport and continue to be instrumental in introducing Trial to a brand-new audience so to have them onboard as a partner again is brilliant."
Matthew Alpe, Inch Perfect Trials Managing Director, stated: "This year's DL12 Indoor Trial was a fantastic event – the fans loved it, the riders loved it and the sport as a whole benefitted from it – and we received the best possible brand exposure on a global level. It was very fitting that we sponsored the log section where anything other than being inch-perfect resulted in a five and we are delighted to continue our partnership into 2024."
Tickets for the 2024 DL12 Indoor Trial on 13 January are on sale now. To guarantee yours click here.