HIGHS AND LOWS IN SESTRIERE FOR BUSTO, HAGA, AND DANCE
It was a weekend of mixed results for GASGAS Factory Racing's Jaime Busto, Sondre Haga, and Jack Dance as the trio competed at altitude at the TrialGP of Italy in Sestriere, the sixth and penultimate round of the 2023 FIM Trial World Championship.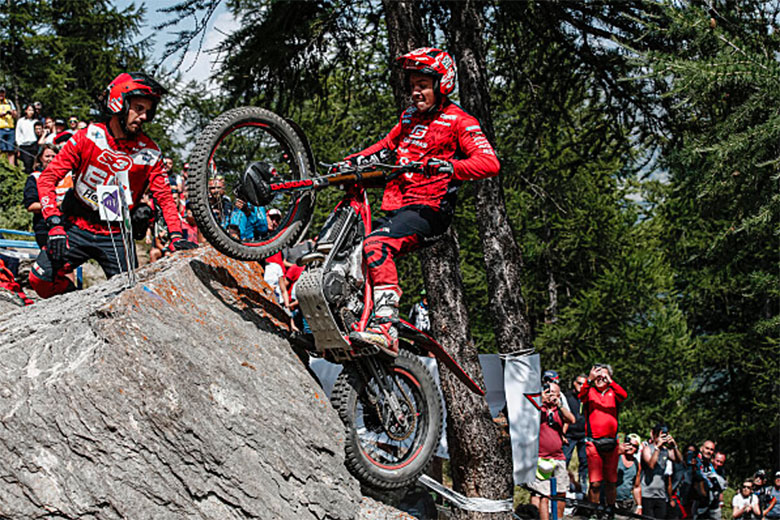 Jaime Busto claims 11th successive TrialGP podium finish on opening day in Italy
Sondre Haga tops Trial2 on day one but slips off the pace on Sunday
Jack Dance digs deep for sixth in Trial2 on day two
With the event staged at over 2,000 meters above sea level, the sections in and around the famous Italian ski resort provided plenty of spectacular action, and some seriously picturesque scenery! But for championship contender Busto, the event didn't start in the best of ways. Not his usual self through several of the super-grippy rock sections, he ended lap one with work to do. Quickly putting his opening lap behind him, an incredible second-lap comeback lifted him up the field from fifth to third, earning him a well-deserved podium result.
Sunday's event also got off to a frustrating start for the 26-year-old, but this time he wasn't able to repeat his heroics from the previous day. Putting in some impressive rides, too many maximum scores saw him end the day in sixth. Despite his disappointment, Busto remains in a very comfortable second in the championship standings.
Defending Trial2 champion Haga was close to untouchable on the opening day as the Norwegian dominated proceedings to record his second win of the series. Again in contention at the halfway stage on day two, a tough second lap dropped him down the order to an eventual 10th.
Britain's Jack Dance endured a tough opening day's competition in Trial2, unable to replicate the form that earned him victory on day two at the previous round. Frustratingly, Jack finished outside of the points. Digging deep on day two, the 18-year-old demonstrated his growing maturity by fighting back to a sixth-place result, in a field dominated by much older riders.
Jaime Busto: "It's been a mixed weekend for me. On day one I didn't have a good first lap, but I felt really good on lap two and was able to come back to the podium and finish third and not so far from Grattarola in second. Day two was tough. I felt good with my riding but with some fives at the start of the first lap I needed another good second lap. But the second lap was not good. More fives and a really bad day."
Sondre Haga: "Winning on day one was great. I felt really good all day and rode well. I did some days testing with the team before this race, and it really put me in a good place ahead of the event. The sections were really technical, which suited me well, so all-in-all a really great first day. Then to go from winning on day one, having such a great day, to finishing 10th on day two, it's really difficult to take. I guess it can happen sometimes, but it doesn't feel good at all, and it's not what anyone in the team deserves. I did pretty well on the first lap – I had one five, but I was still in there fighting for the podium. On lap two I got what I thought was an unfair five in section two. Then it was kind of mixed, with too many mistakes. Obviously, winning on day one was great. Some time now to prepare ahead of the final round in France."
Jack Dance: "It's been a bit of a mixed event for me – not good on day one then much better today on day two. I just couldn't get into things on Saturday. I couldn't get into any sort of rhythm and then when I felt like I was riding well I got some unfortunate marks from some observers. Things just didn't come together for me. Things were a lot better on day two – I really focused on my riding and took things section by section."
Results: TrialGP of Italy
TrialGP – day 1
1. Toni Bou (Montesa) 20
2. Matteo Grattarola (Beta) 30
3. Jaime Busto (GASGAS) 36
Trial2 – day 1
1. Sondre Haga (GASAGAS) 7
2. Jack Peace (Sherco) 13
3. Hugo Dufrese (GASGAS) 16
20. Jack Dance (GASAGAS) 45
TrialGP – day 2
1. Toni Bou (Montesa) 9
2. Gabriel Marcelli (Montesa) 18
3. Adam Raga (TRRS) 23
6. Jaime Busto (GASGAS) 47
Trial2 – day 2
1. Billy Green (Scorpa) 6
2. Pablo Suarez (Montesa) 11
3. Jack Peace (Sherco) 13
6. Jack Dance (GASGAS) 19
10. Sondre Haga (GASGAS) 25

Championship standings (after round 6)
TrialGP
1. Toni Bou (Montesa) 231
2. Jaime Busto (GASGAS) 202
3. Gabriel Marcelli (Montesa) 161
Trial2
1. Billy Green (Scorpa) 179
2. Jack Peace (Sherco) 173
3. Pablo Suarez (Montesa) 163
4. Sondre Haga (GASGAS) 142
7. Jack Dance (GASGAS) 99