Thousands of fans played their part as they voted for Jack Peace to be the eighth and final rider to complete the formidable line up that will fight it out at the inaugural DL12 Indoor Trial at the Utilita Arena Sheffield on Saturday 7th January 2023. The twenty–two–year–old from Scarborough more than deserves his place amongst the elite entry having finished as runner up in the British Championship this season after achieving a similar feat at World level in the highly competitive Trial2 class last year. Peace had to see off fellow Trial2 contenders Billy Green and Jack Dance in the public vote to finally secure his place in the starting eight, with his two compatriots having also been selected as first and second reserves respectively.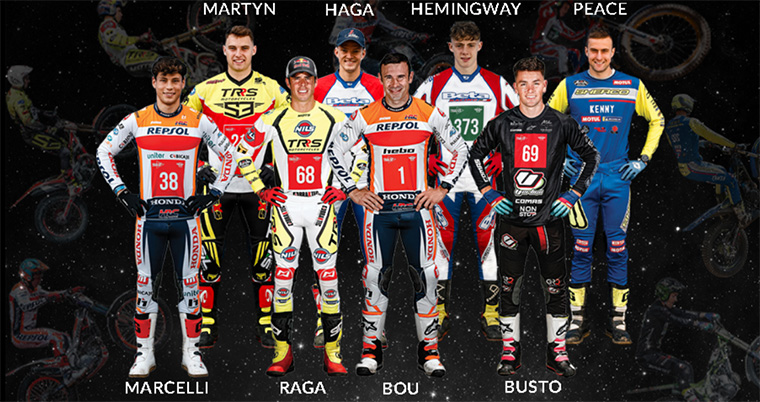 Peace who took the Trial125 World title in 2016 has also tasted victory in the Trial2 category with a win at the closing round in Italy in 2021, a result which he followed up with a second spot at the opening event in Spain earlier this year on route to securing seventh overall in the ultra–tough division. Delighted to have won the public vote and to be a part of the forthcoming historic occasion Peace said: "Firstly I would like to thank everyone who took the time to vote for me, it means a lot. To now know that I will be taking my place at Dougie's first ever indoor trial is just amazing. The British fans are always great at Sheffield and hopefully with their support I can put on a good show and hold my own up against the World's best."

Speaking about the difficult process of selecting riders Dougie Lampkin explained: "Unfortunately with only eight places up for grabs it is not possible to include everyone who we would like to have done, it's as simple as that. Each of the eight riders, have been selected on merit and on their performances this year, but when it came down to the final spot it was so hard to split the young British trio of Jack Peace, Billy Green and Jack Dance, so we thought that the fans should decide. To be honest we were overwhelmed by the number of votes that came in for all three riders, though it was Jack Peace who came out on top. The good news is that the other two guys will be on the bench and will be ready to jump in if needed, I am sure."

Rounding off Dougie said: "I am really happy with the final line up, we have the three current World champions, the current vice World Champion and World number three, the 2022 British champion, three Brits in total plus some of the best young riders of the moment, it is going to be a great night I am sure about that."

DL12 Indoor Trial – Final Rider Line Up

1: Toni Bou – Spain – 2022 TrialGP World Champion
2: Jaime Busto – Spain – 2022 TrialGP Vice World Champion
3: Adam Raga – Spain – 2022 TrialGP World Number 3
4: Gabriel Marcelli – Spain – 2022 TrialGP World Number 5
5: Sondre Haga – Norway – 2022 Trial2 World Champion
6: Toby Martyn – Great Britain – 2022 British Champion
7: Harry Hemingway – Great Britain – 2022 Trial3 World Champion
8: Jack Peace – Great Britain – 2022 Vice British Champion

1st Reserve: Billy Green – 2022 Trial2 World Number 3
2nd Reserve: Jack Dance – 2022 British Number 5
For standard tickets or premium passes for the chance to meet Jack Peace and the other riders in person – click
here
for more details.