BRITISH ACE TOM MINTA JOINS GASGAS FACTORY RACING AT THE IRON GIANT AND SERVES UP AN IMPRESSIVE 28TH PLACE FINISH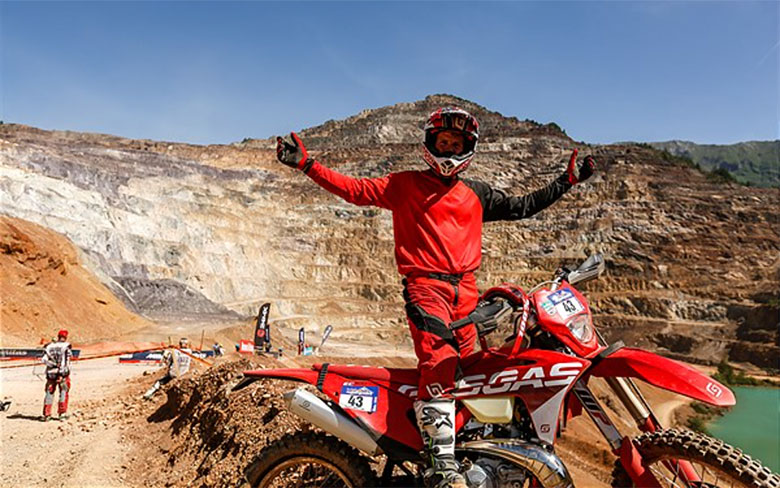 Knowing that there's a serious crossover of skills between trial and hard enduro, GASGAS dreamed up the ultimate challenge to see just how close the two disciplines actually are. The plan? Take the top privateer finisher at the Scottish Six Days Trial – a brutally tough event in its own right – and give that rider the full GASGAS Factory Racing treatment in order to take on the Red Bull Erzbergrodeo! And that's exactly what we did with British trial ace Tom Minta, who reached Carl's Dinner and walked away with an incredible 28th place finish!
GASGAS took top SSDT privateer to the Red Bull Erzbergrodeo
British trial ace Tom Minta delivered a stunning result in Austria
Watch Tom reflect on his amazing experience in the video below ..
History shows that successful trial riders make great hard enduro riders. That's why our idea of taking the top privateer finisher at the SSDT to the Red Bull Erzbergrodeo was something we just had to do. And knowing how tough and technical the Scottish Six Days Trial is, it was the perfect event to find someone we thought would be capable of taking on the infamous Iron Giant.
With around six weeks between the SSDT finishing and the Red Bull Erzbergrodeo starting, there wasn't a huge amount of time for our competition winner Tom to become fully acquainted with his new EC 300. But after a few phone calls and messages exchanged between the Brit and GASGAS Factory Racing's hard enduro legend Taddy Blazusiak, the 23-year-old from Shrewsbury in England was quickly dialled in, up to speed, and ready to take on the toughest one-day hard enduro in the world.
So, was our experiment a success? Was Tom able to hold his own and battle his way around the world's gnarliest dirt bike racetrack? With Tom successfully reaching Carl's Dinner alongside some of the biggest names in the 2022 FIM Hard Enduro World Championship, the answer to both those questions is undeniably… yes, he did!
Rene Esterbauer – GASGAS Head of Global Marketing: "GASGAS is very much aware that trial riders make great hard enduro racers. And, as part of our ongoing commitment to trial sport, we wanted to have some fun and highlight this connection between trial and enduro. That's why we gave one SSDT competitor the chance to jump straight in at the deep end and race the biggest hard enduro event of them all – Red Bull Erzbergrodeo! We knew it was a big ask to expect a top result from Tom as Erzberg is notoriously difficult, but the way Tom approached and prepared for the event, and the way he rode during the race, he really impressed us. It's an amazing story and one that GASGAS is incredibly proud of. Congratulations, Tom!"
Tom Minta: "I still can't believe how amazing Erzberg was! Getting the chance to compete in such an amazing event, and as part of GASGAS Factory Racing, was an amazing experience and something I'll never forget. I didn't quite know what to expect going into the race, but my personal goal was to reach Carl's Dinner and that's exactly what I did! In the lead up I put so many hours in practising, I felt really good on the bike and ready for the challenge. The Iron Giant is so big. Photos and videos don't do the size of the place justice. It's massive! Without a doubt my trial background definitely helped me in all the technical sections and without that there's no way I'd have gotten as far as I did. The whole experience was off the scale, the atmosphere was incredible, and I can't wait for 2023 where my goal is to reach the finish line."