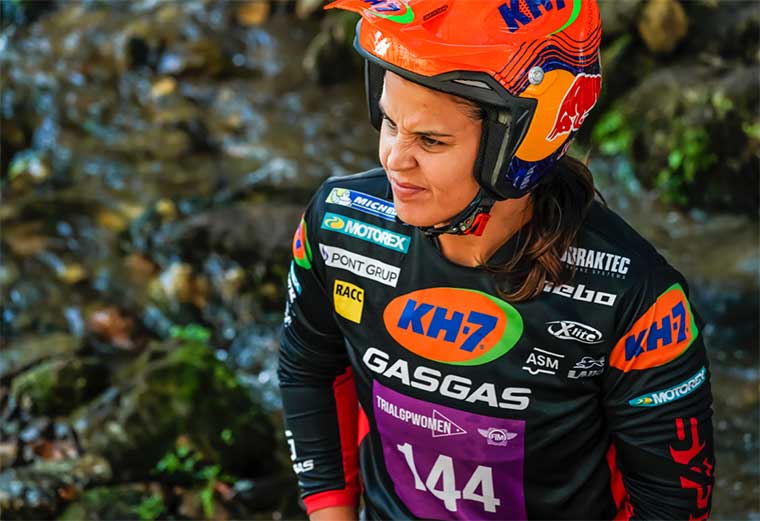 Laia Sanz (GASGAS) added to her legacy as the most successful female trial rider of all time when, following a seven-year absence from the sport, she staged a triumphant return this season and claimed an amazing 14th FIM Trial World Championship individual title in the TrialGP Women class.
The 35-year-old from Barcelona was the first-ever TrialGP Women champion all the way back in 2000 and went on to win 13 world crowns in 14 years before switching to rallying in 2014 where she has forged a formidable reputation in gruelling events such as the notorious Dakar Rally.
Sanz's 2021 TrialGP Women campaign got off to a great start with victory on the opening day of the Italian TrialGP at Tolmezzo– her first trial at the highest level since September 2013.
Defending champion Emma Bristow (Sherco) from Britain struck back on day two and again three weeks later at Charade in France but Sanz took another day win in Spain before wrapping up the title at the final round – the Portuguese TrialGP – at Gouveia in mid-September.
"Coming back to TrialGP after so many years away, to return and finally be successful and win another world title, it's amazing," said Sanz. "It's not been an easy year for me, so I am proud that I have been able to do what I hoped I would.
"Also, I want to thank the team and GASGAS, they have been so, so good to me. It's the result that we all worked really hard for."
The icing on the cake of her dream return to the sport came the following day at Gouveia when she helped Spain defeat Great Britain and take the coveted Women's Trial des Nations title for a record-breaking ninth time.
"Winning the Women's Trial des Nations World Championship with team Spain is the perfect way for me to finish my trial season," added Sanz, who was part of the winning team at the first-ever Women's TdN in 2000. "Yesterday was already an amazing day, so today just makes things even better. We rode very well as a team, especially in the second lap. I'm really happy and pleased with the way I rode. This is the perfect way to finish the trial season."
Sanz ends her season next month when she will attempt to win her sixth FIM Women's Enduro World Championship title. With an eight-point lead heading into the series finale in France she starts as the odds-on favourite.
From there she'll begin her preparations for the Dakar Rally in January. With a best-ever finish of ninth achieved in 2015 – the highest by a female motorcycle racer in the history of the infamous event – Sanz will be determined to improve on her 17th position in 2021.
For regular updates check out our social media platforms on Facebook, Twitter and Instagram – just search for TrialGP.