Repsol Honda Trial Team riders ready for opening round of X-Trial season in Barcelona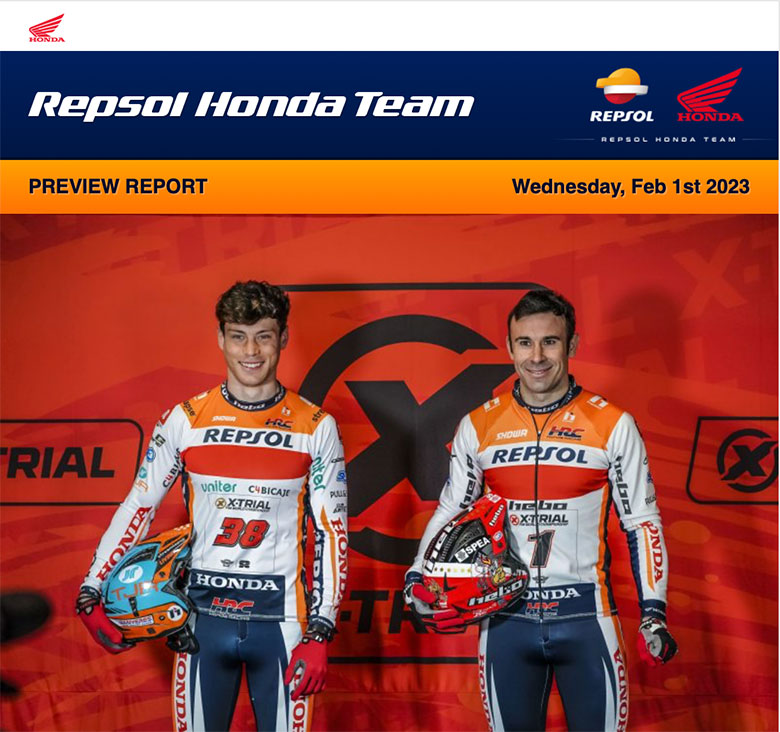 Toni Bou and Gabriel Marcelli will face the first event of the season on February 5th at the Palau Sant Jordi, with the reigning champion and his teammate looking for a strong start to the campaign.
The 2023 X-Trial World Championship kicks off on February 5th in Barcelona, Spain, with the city hosting the season curtain-raiser for the third time. The Repsol Honda Trial Team will attempt to fight for another title in the indoor series this year.
The current World Champion, Toni Bou, holder of a record 32 world titles -16 in Trial GP and 16 in X-Trial- begins his latest season. He has won 15 times in Barcelona in the series, including victory in 2022.
His teammate, Gabriel Marcelli, will contest a second season with the Repsol Honda Trial Team. The 2019 Trial2 title winner is one of the most promising young talents in the sport, and in 2023 is targeting big things.
There are changes to the X-Trial regulations for 2023. On the first lap, the nine participating riders will have to complete 5 zones in 5 minutes; whilst on the second lap they will have to complete 5 zones in 4 minutes. The scores from both laps will be added together and the three best riders will go on to compete in the final over 6 zones.
The 2023 X-Trial World Championship calendar consists of 8 events. After Barcelona, further contests will be held in Wiener Neustadt (Austria), Pamplona (Spain), Bordeaux (France), Andorra, Madrid (Spain) and Île de la Réunion (France).
Toni Bou 1
"We face the first race of the season with great enthusiasm. Barcelona is always special and starting the X-Trial Championship at home gives us extra motivation, so we will try to get the best result possible. The aim this year is the same as in previous seasons: To get the title in both championships. We have desire, motivation and we have had a good preseason. I'm happy with the bike and with the work done by the team"
Gabriel Marcelli 3
"I'm very motivated, with a lot of desire to start the season. I come into this round off a recent crash in Toulouse, but I've been working to be 100% fit for this weekend. We have had a very good preseason and I have had a very good feeling with the bike. The goal in Barcelona will be to share the podium with Toni. I want finish the year in the Top 3 in both championships. Now I know the bike better, I've learned to manage my nerves and handle the pressure, so it's going to be a good season for me"
Takahisa Fujinami
Team Manager
"In the months before starting the season we have been training a lot and getting the bike ready. We have had two scares with crashes -first for Toni and then for Gabri, but both are ready to start the season. Our goal this year is to win the title. As Team Manager I have learned things from last year and the objective is to fight for both titles"