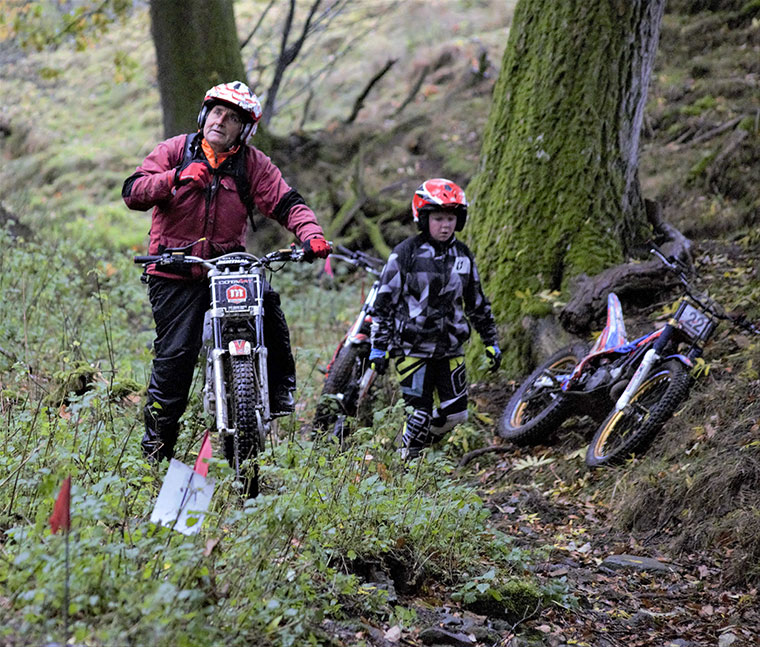 Hardstiles Trial, Marske
Richmond Motor Club held an easy trial at Hardstiles, Marske on Sunday 23rd October. The trial was marked out in normal weather conditions for October, however from 10.30am the heavens opened which made balancing on two wheels for three laps of twelve sections rather difficult!
More rain throughout the day made the ground very wet and muddy, with most riders managing to cope with the conditions and some even enjoying themselves!
It was a big achievement for the youths on the conducted course to ride round in such weather conditions so a big well done to them.
On the Main Course Hard Deviation Route, Colin Chapman (Vertigo) took the lead in the Adult Class on 21 marks lost, closely followed by Allan Richardson (TRRS) on 23 marks. Paul Astwood rounded off the top three with 33 marks lost. In the Youth Class, Jamie Rowntree (Beta) stepped onto the top spot losing 36 marks, with Callum Fowler (Beta) not too far behind, dropping 43 marks. Young lad George Hird (Sherco) came in third with 53 marks lost.
On the Clubman Route, Paul Sadler (Vertigo) made it look easy, only dropping 1 mark over the entire day. Paul Wearmouth (Montesa) and Darren Fowler (Beta) battled it out for second place, but Paul made it on 2 marks, with Darren following on 3 marks lost.
In the A Class, Jamie Sharp (Beta) dropped 57 marks. For the Bs, Harvey Rutter (Sherco) came out on top with 39 marks lost, and Matthew Hall (Beta) led the C Class, losing 69 marks.
The Main Course Easy Out Deviation was led by Rachel Darley (Beta) on 27 marks. Francesca Rymer (Beta) came in second on 38 marks, followed by her father Glyn Tattersall (Vertigo) on 45 marks. Youths Joseph Brown, Alfie Astwood and Joseph Larkin proved the Beta was the bike for the job and got round all three laps.
On the Conducted Course, the younger riders had a challenge ahead due to the heavy rain conditions. In the D Class, Isaac Tiplady (Oset) got round three laps of eight sections, only dropping 16 marks. George Rennison (Beta) followed behind on 42 marks, with Harry Mason (Oset) hot on his heels on 45 marks lost. Edward Gospel (Oset) was the only E Class rider, and finished with 56 marks lost. Special mention to new rider Rufus Orde-Powlett for getting round his first ever trial, particularly with the dreadful rain!
A huge round of applause to all the observers for standing out in the torrential rain all day. The club is very grateful for their continued support. Special thank you to Gerald and John Horn for the use of the land and also the tractor for pulling vehicles out of the field! Thank you to all who helped with collecting flags at the end and to the riders for making it a great trial.
Main Course – Hard Route
Adults
Colin Chapman (Vertigo) 21, 2. Allan Richardon (TRRS) 23, 3. Paul Astwood 33
Youths
Jamie Rowntree (Beta) 36, 2. Callum Fowler (Beta) 43, 3. George Hird (Sherco) 53
Main Course – Clubman Course
Overall
Paul Sadler (Vertigo) 1, 2. Paul Wearmouth (Montesa) 2, 3. Darren Fowler (Beta) 3
Clubman
Paul Wearmouth (Montesa) 2, 2. Darren Fowler (Beta) 3, 3. Hannah Richardson (TRRS) 5
O40
Paul Sadler (Vertigo) 1, 2. Andrew Walton (Beta) 13, 3. William Wood (Vertigo) 13
Twinshock
Kevin Chapman (James) 16, 2. Stephen Watling (SWM) 20
A Class
Jamie Sharp (Beta) 57
B Class
Harvey Rutter (Sherco) 39, 2. Joel Thwaite (TRRS) 53, 3. Bobbie Pulman 76
C Class
Matthew Hall (Beta) 69, 2. Bailey Huntbach (Beta) 72, 3. Josh Dent (Beta) 89
Main Course – Easy Out Deviation
Adult
Rachel Darley (Beta) 27, 2. Francesca Rymer (Beta) 38, 3. Glyn Tattersall (Vertigo) 45
Youth
Joseph Brown (Beta) 57, 2. Alfie Astwood (Beta) 60
D Class Hard
Joseph Larkin (Beta) 81
Conducted Course
D Class
Isaac Tiplady (Oset) 16, 2. George Rennison (Beta) 42, 3. Harry Mason (Oset) 45
E Class
Edward Gospel (Oset) 56
Report: Charlotte Brown
Photo: Rob Blueman