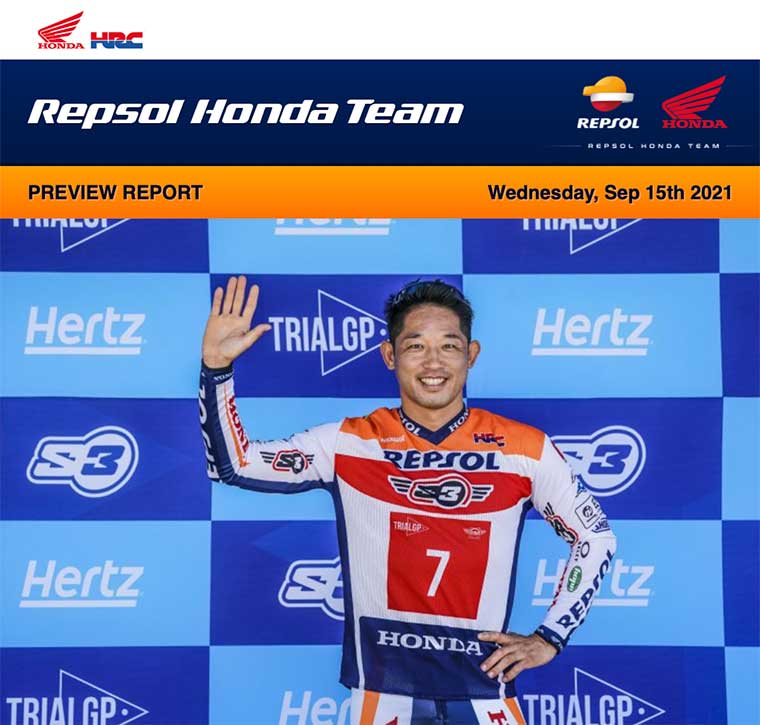 Takahisa Fujinami to bid farewell to the Trial World Championship this weekend in Portugal
'Fujigas', Repsol Honda Team's charismatic Japanese rider, will put an end to a very lengthy sporting career with a final participation in the TrialGP World Championship to be held in Gouveia this Saturday.
After 26 seasons in the Trial World Championship, a record number of participations, 168 podiums, 34 victories, 7 runner-up finishes and one world championship title, Repsol Honda Team rider Takahisa Fujinami (Mie, Japan, 13/01/1980) will bring his career to a close this coming Saturday in Portugal.
Since his debut in Navacerrada, Spain in 1996 at the age of 16, he has spent over a quarter of a century fully dedicated to trial competition, collecting several key achievements along the way including the world championship title sealed in 2004. In addition, the Japanese rider has also broken several records in the specialty, such as the youngest rider to win a world championship event (Talheim, 1997) at the age of 17, as well as the record for the most elderly rider, attained earlier in 2021 with a win in Italy aged 41. Indeed, this kind of longevity has led him to become the rider with the highest number of participations in elite competition, with a tally of 355, including this Saturday's event in Gouveia.
With 34 victories – always with Montesa-Honda – Takahisa Fujinami is the rider with the fifth highest number of triumphs in world championship trials and is fourth in terms of number of podiums, surpassed only by Adam Raga, Toni Bou and Dougie Lampkin. Furthermore, he has finished in the world championship top five over 20 consecutive seasons. Fujigas' has also been world championship runner-up on seven occasions. The number rises further with the indoor competition tally: one runner-up, one victory and 36 podiums out of 139 trials. In Japan, he also won five national titles between 1995 and 2001. Finally, he took part in 15 Trial du Nations events representing the Japanese team, contributing to five runner-up finishes.
Thank you for so much, legend!
The final TrialGP World Championship event, this Saturday
The last race of the 2021 TrialGP World Championship will be held this coming Saturday in Gouveia. This event replaces the cancelled trial originally scheduled for early October in Great Britain.
Toni Bou is once again the firm favourite to become world champion after his double victory last weekend in Spain. Bou needs just a single point next Saturday to be crowned 2021TrialGP champion. The feat will mark a 15th consecutive title and the 29th of his career in top flight competition. After last weekend's event in Pobladura de las Regueras, the Repsol Honda Team rider and the Montesa Cota 4RT look all set to continue their world championship dominance.
The trial will be held in the urban center of the Portuguese town, whose course will feature twelve sections to be tackled twice. The event is scheduled to finish at 15:00 (local time), followed by the prize-giving podium, during which the world championship medals will be awarded.
Shinya Wakabayashi
HRC Director – General Manager, Administration Division
I can only thank Takahisa Fujinami for his dedication and performance during all these years at the highest level of competition, which is the World Trial Championship, always representing Honda and Japan in elite level sport. The sporting life of the riders is usually limited, but Fujinami has shown, thanks to his tenacity, that it is possible to perform at a very high level for more than 25 years. From Honda Racing Corporation we can only say "Thank you very much for all you have done, Takahisa".
Takahisa Fujinami  7
I firmly believe that the time has come to close the curtain on my career as a world trial championship rider after 26 years in the competition. Thanks to everyone's support, over this period, I have been able to make trial my profession and perform at a more than satisfactory level for over a quarter of a century. Thank you very much.
They have been 26 great years. And I have to also thank my family, who supported me from the first moment, my team-mates, the brand, the sponsors and also the fans who have cheered me on throughout. I would like to greet each of my fans one by one, and I hope to do it someday, to thank them for the enormous support they have given throughout this time.
Honda Racing and Montesa-Honda gave me a bike to participate in the world championship when I was 16 years old and, since then, I am proud to have battled with this team right through to the very end.
I still remember the shouts and applause of support at my debut in Japan and also in Spain: 'Fujigas' was born there! The first victory in Germany, the tough, complicated years, but also the joy of the world title in 2004. It's a long time ago, but it's my particular treasure…
I would also like to particularly remember the Japanese Grand Prix at Motegi, which started in 2000 and has always had such an enthusiastic crowd. Thank you again.
As for what I will do from now on… I don't really know yet. I haven't made up my mind yet what I will do after retiring from competition, but I hope to stay involved in trials in some way. I'm confident that everything will go well in my new life.