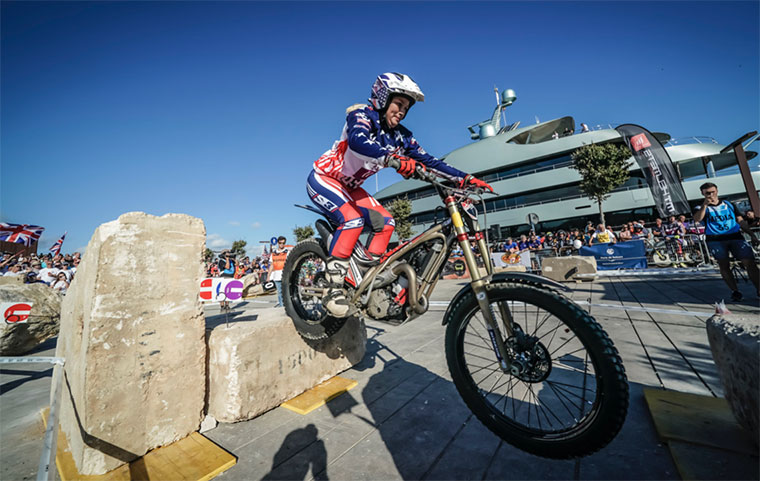 The biggest single event in the international trial calendar – the 2021 Hertz FIM Trial des Nations – takes place this coming Sunday at Gouveia in Portugal. The event attracts teams from across the globe and at stake are bragging rights to the claim of being the best trial-riding nation on the planet.
This year's event has attracted entries from 16 countries and three continents. In total in excess of 70 riders will be in action with male and female 'World' Trial des Nations crowns up for grabs plus a male 'International' title also on the line.
Boasting an incredible 26 wins since the TdN was first held in 1984, Spain is the male powerhouse of the event and has won every year since 2004 apart from 2020 when COVID caused its cancellation. There's no reason to expect any other outcome this time around with the Spanish trio of Toni Bou (Repsol Honda), Adam Raga (TRRS) and Jaime Busto (Vertigo) currently filling the top three positions in the 2021 Hertz FIM Trial World Championship.
The remaining podium positions will be disputed between France, Great Britain and Italy and it's shaping up to be a fascinating contest featuring riders from both the TrialGP and Trial2 classes.
Italy's Matteo Grattarola (Beta) is currently fourth in the premier class and he's joined by Trial2 riders Lorenzo Gandola (Beta) who sits fourth and Gianluca Tournour (GASGAS) who is ninth.
The French team comprises Benoit Bincaz (Beta) and Teo Colairo (Beta) who are 10th and 12th in TrialGP and Alexandre Ferrer (TRRS) who is seventh in Trial2.
Finally, Great Britain has opted for an all-Trial2 line-up with series leaders Toby Martyn (TRRS) and Jack Peace (Sherco) along with 2018 Trial125 champion Billy Green (Scorpa) who lies 10th but has shown his podium potential this year.
On paper the Spanish women look to have the edge with its experienced line-up of Laia Sanz (GASGAS), Berta Abellan (Vertigo) and Sandra Gomez (TRRS) currently running second, third and fourth in the TrialGP Women standings.
However, Great Britain led by reigning TrialGP Women champion Emma Bristow (Sherco) always puts up a good fight and with Alice Minta (Scorpa) – who sits seventh in TrialGP Women – and fifth-placed Trial2 Women competitor Alicia Robinson (Beta) providing back-up there could be an upset.
We mustn't forget that a further six nations will be aiming to get into the mix for a podium finish and there will also be a delegation from FIM Latin America but a lot will decide on who best handles the extra pressure that goes hand-in-hand with representing your country.
TdN practice sessions are scheduled for both Friday and Saturday before the serious business gets under way on Sunday at 8.30am GMT.
For regular updates and live results check out our social media platforms on Facebook, Twitter and Instagram – just search for TrialGP.
For more information go to www.trialgp.com