Toni Bou and Gabriel Marcelli ready for fourth round of X-Trial World Championship in Bordeaux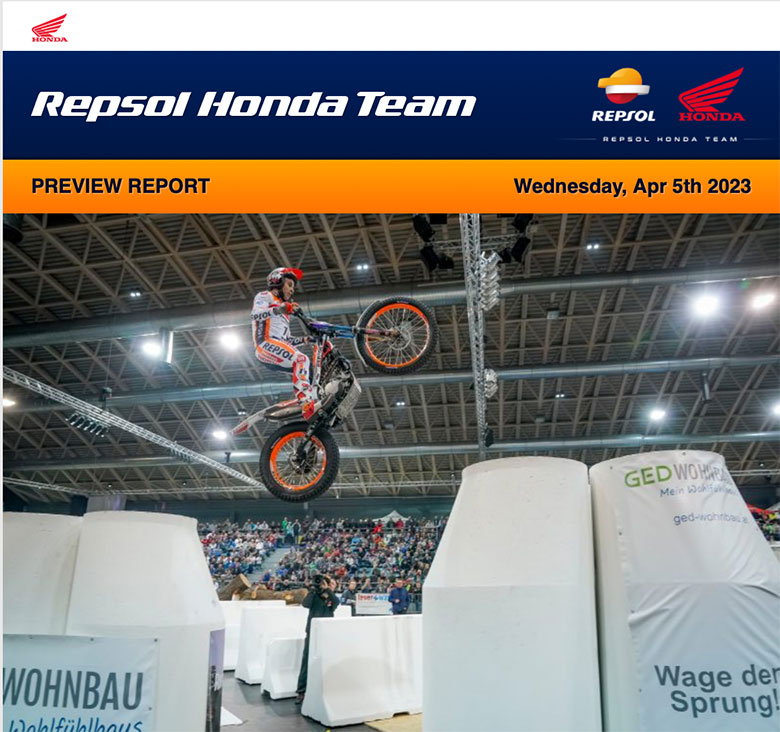 The 32-time World Champion is the leader of the standings, with Marcelli third, only 6 points behind the second place
The Arkéa Arena will host the fourth round of the X-Trial Championship for the first time on Friday 7 April. Toni Bou arrives in Bordeaux as the leader of the standings after good results achieved in the three rounds held so far, whilst Gabriel Marcelli continues in third overall, only 6 points behind second place.
Two victories and a second position are the results that Bou has achieved so far in the X-Trial World Championship, which have given him a solid lead in the overall standings. The Repsol Honda Trial rider reaches the fourth round of the season with 58 points to his name, and took his second victory of the year in Pamplona. At the Arkéa Arena, Bou's main objective will be to get another victory.
Gabriel Marcelli is third overall after taking a second place in Pamplona that allowed him to cut a large number of points off the gap to his rivals. He arrives in France with the aim of continuing his run of results and fighting for victory.
After the race in Pamplona, in which the Repsol Honda Trial Team riders earned first and second place, respectively, both will want to gain the maximum amount of points before the X-Trial World Championship takes a break. The fourth event of the season will begin at 8:45pm local time.
Toni Bou 1
CHAMPIONSHIP: 1ST
"After a good race in Pamplona we are going to Bordeaux with great enthusiasm. We want to continue in the same way, since the most important thing is to score as many points as possible. As we have seen, it is a very tight season and our rivals have been pushing quite hard. I think the key will be to not make mistakes, because any mistake leaves you out of the final, so you have to be very focused. It is always important to get a good result when a break is coming around. Our objective will be to take as many points as possible, we are in a good position in the standings and we will look for the best result."
Gabriel Marcelli 38
CHAMPIONSHIP: 3RD
"The races are going very well. In Pamplona we got second position again and we are happy with the work we are doing. We face the Bordeaux round with more confidence after the good results we've had. Physically and technically I am prepared to fight for victory and this will be our objective, although it will not be easy because our rivals are of a high level. Using our heads and doing things well, we can achieve it. It is the last race before the break and it will be important to get a good result to score points for the championship."
Takahisa Fujinami
Team Manager
"The team arrive in Bordeaux with a good feeling, prepared and highly motivated. After the great race in Pamplona. Gabri took several points from the rider in second place and the objective for both riders will be to get the win. Getting a good result before the X-Trial World Championship break will be important and will give us extra motivation and a good pace for the start of TrialGP. We are confident that Toni and Gabri can repeat the results from Barcelona and Pamplona in Bordeaux this Friday and climb to the top of the podium."