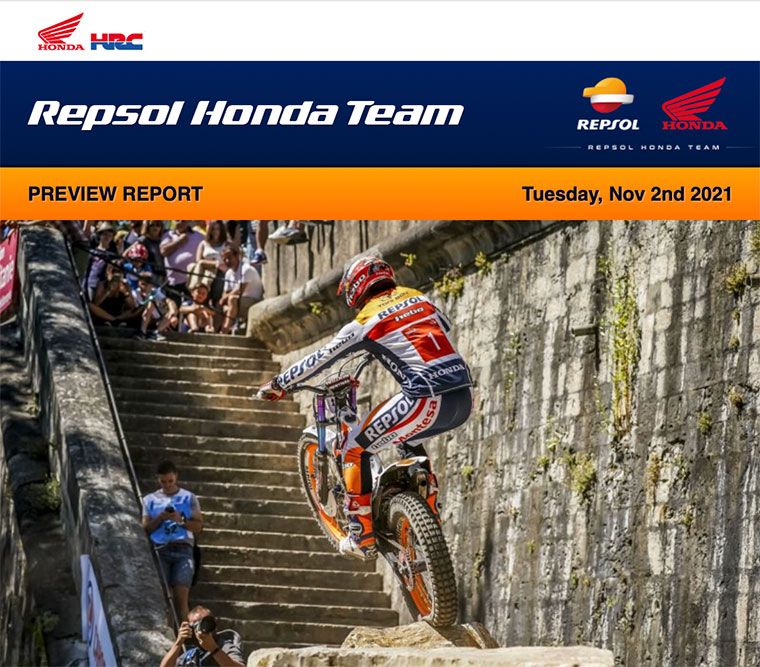 The FIM X-Trial World Championship will get underway this Saturday, 6 November in Andorra and is set to finish later in the same month with the legendary Barcelona Indoor Trial at the Palau Sant Jordi. Toni Bou will be gunning for a thirtieth world title.
Next Saturday in Andorra Repsol Honda Team rider Toni Bou will begin the shortest ever championship in trial history, with just two points-paying rounds. The world pandemic caused by COVID has already forced the suspension of part of the calendar planned for 2020 and, due to restrictions still imposed by certain countries, the 2021 championship start has had to wait until practically the end of the season, twenty months after the last indoor race. Just two events are scheduled that will determine the 2021 champion: Andorra and Barcelona.
Toni Bou is poised once again to battle for the world championship crown which could net a fifteenth X-Trial title, potentially taking his overall championship title tally to thirty.
The Andorra X-Trial, which will be held at the Poliesportiu d'Andorra, Andorra la Vella, gets underway at 18:00 on Saturday, 6 November
Toni Bou 1
It's a pity to have to compete in a world championship with only two trials. We know that the situation with Covid hasn't left many possibilities and that's what we are faced with. There is no other option, but to complete the season with just two trials is a bit unfair. We are preparing to the maximum and we are going to fight for it 100%. Normally, and because of the way the classification system works, X-Trial is a competition with a lot of luck involved, and in that respect, this one won't be much different. We will fight hard but our goal remains the same.