The new model has been created with the aim of bridging the gap between the ON-E KIDS 20″ model and the ONE 125cc. A much needed intermediate step for all those young riders who wish to start or maintain their progress on a combustion bike.
The new TRRS ONE 80cc has been specifically designed to meet the needs of the youngest riders between 8 and 16 years of age, looking for a light and manageable package, capable of tackling the most demanding areas.
With this new model TRRS Motorcycles consolidates its range of motorbikes as the most extensive and complete in Trials.
Its new 80cc engine is specifically designed for Trials; a powerful, modern and lightweight engine, with an exhaust optimised for the practice of this modality. Undoubtedly, it is the ideal model to make the leap from electric to combustion units.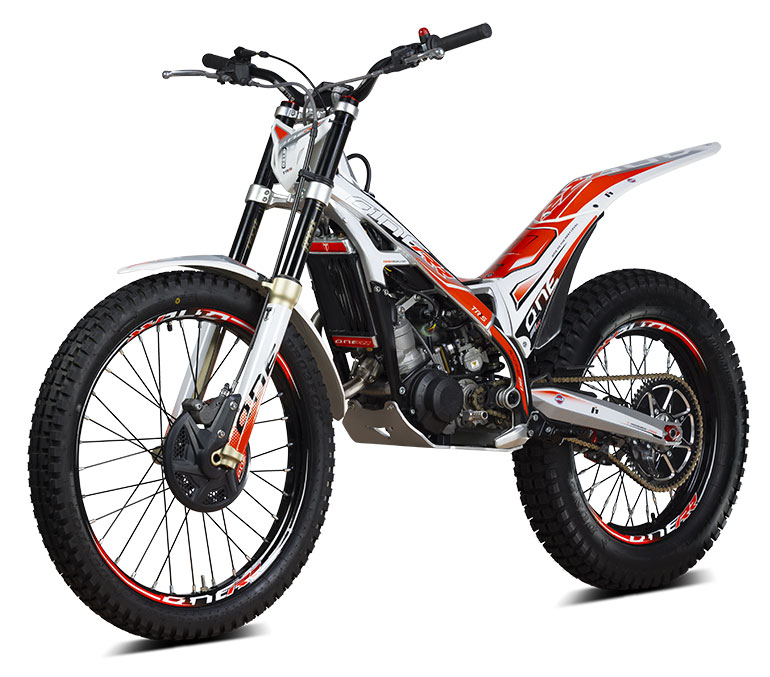 CYCLE PART:
Frame:
A shorter aluminium frame has been designed for the 80cc model and adapted to the needs of younger riders.
Transmission:
60z chainring and 9z sprocket to reduce the speed and increase the torque of the set.
Skid Plate:
Protection plate for the new 80cc engine.
Rubber protection designed to reduce shocks and vibraons.
Front Suspension:
The aluminium TECH front fork has special settngs adapted to the new model.
Rear Schock Absorber:
The R16v shock absorber receives a softer spring adapted to the weight of the youngest riders.
Electrical Installation: 
The electrical installation has been revised and adapted to the needs of the new model.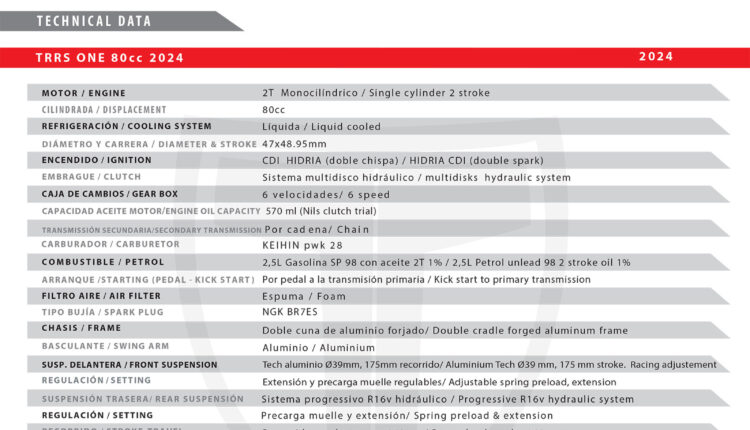 ENGINE:
Exhaust:
An specific exhaust pipe has been designed to improve engine response in all engine speeds.
The muffler has also been adapted with a new fit due to the needs of the new model.
Cooling System:
The cooling system (radiator, fan and hoses) has also been redesigned to ensure optimum engine performance.
Carburettor:
The 80cc model is equipped with the KEIHIN PWK 28mm carburettor with specific settngs..
Start-up System:
Special kick-start pedal desgined by TRRS.
Clutch System:
Clutch assembly (piston, spring and body) designed to ensure optimum performance and progressivity.
Ignition System:
Flywheel and stator have been incorporated to improve spark quality for better engine response.
Inertia assembly with specific TRRS design.