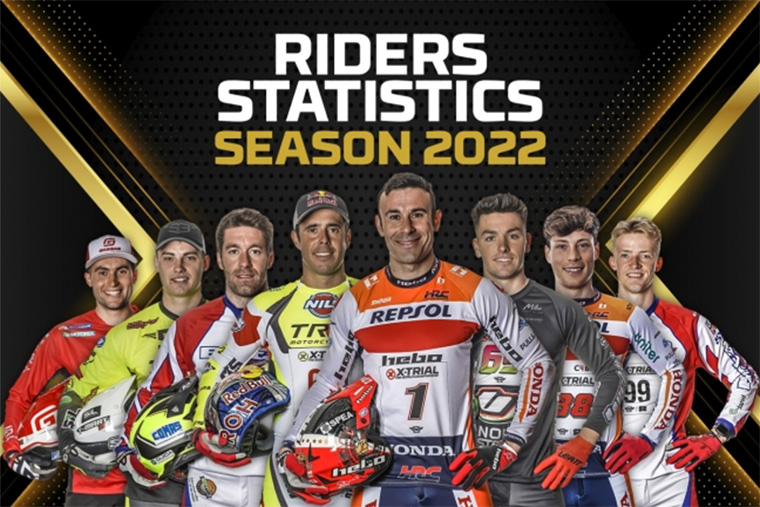 Facts and figures from the 2022 season
Of the five X-Trials completed during this year, Toni Bou won four of them and Jaime Busto claimed one. Regular rivals Bou and Adam Raga were the only men to make the podium at every Round. No less than four other riders reached the rostrum during the campaign: Jaime Busto (twice), Matteo Grattarola (twice), Gabriel Marcelli (once) and Toby Martyn (once).
With regards to manufacturers, Montesa and TRRS each recorded six podium results, Beta finished with two and Vertigo one.
Of the 10 bonus points that were available for winning the opening two Rounds of each night, Toni Bou dropped just one, to Toby Martyn.
The newly proclaimed 16-times World Champion was the only rider who completed any course clean, managing each of the opening two runs at X-Trial Andorra la Vella without a penalty. At X-Trial Nice, Bou dropped just a single mark in each of his opening two rides, Grattarola managed the same in the first Round of the night.
The closest X-Trials of the season were X-Trial Chalon Chalon-sur-Saône (won by Bou 7 marks to 8) and Andorra la Vella (Busto victorious by 4 marks to 5 over Bou).
Toni Bou's four victories this season move him on to a career total of 73. He is followed in the all-time rankings by Adam Raga (38), Dougie Lampkin (36), Marc Colomer (33) and Albert Cabestany (18).
Adam Raga has now been on the rostrum in 43 consecutive X-Trials, in a run stretching back to 2014 that leaves him on 122 career podiums. Albert Cabestany (90), Toni Bou (87), Dougie Lampkin (80) and Colomer (76) are the riders that trail him.